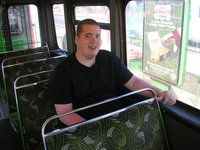 Last year I reported extensively on the case of Steven Neary, a 20 year old autistic man. At the time, only Private Eye had taken any interest in Steven's 'case' and a friend of his Father's asked me if I would promote the case on this blog, given my interest in Court of Protection matters. The main stream media, despite many approaches, were monumentally uninterested in Steven's plight.
Steven's plight was this: his Father had been overrun by a bad bout of genuine flu – you don't suffer from 'man-flu' when you are a full time carer and single parent. He asked his local council if Steven could be given three days respite care to allow him to recover. They agreed.
This simple request turned into a nightmare for both Steven and his Father. The council declined to return Steven to his Father's care. (Full story here, here and here).
The High Court today have ruled that they UNLAWFULLY DETAINED Steven and UNLAWFULLY deprived him of his LIBERTY for a full year.
That original blog post caused something of a sensation – 2,500 retweets around the world, and over 25,000 hits in the first 24 hours of publication. Parents of Autistic children world wide were appalled and campaigned to publicise the dangers inherent in new Deprivation of Liberty 'Safeguards' – which appeared to do nothing of the sort – but could result in a loving family being torn apart overnight.
The main stream media remained uninterested until the Super-injunction cases started to hit the media – suddenly the Court of Protection cases were of interest to them. Not that these were genuinely 'super-injunctions', but the fact that reporting was forbidden was an issue that could be run alongside their campaign to be allowed to report footballers sex lives.
A group of papers applied for, and received, permission to report on Steven Neary's case – on the grounds that it had already received heavy publicity! Despite the fact that every one of those papers had been in contact with me, begging for an introduction to Steven's Father, not one of them mentioned where the 'extensive publicity' had taken place. The Daily Mail, in particular, copied and pasted yards of material from old posts giving the history of the Court of Protection on this site. (Thanks for the tip-off Churnalism!)
If you are having trouble accessing the site, I can see from my stat counter, that every Tom, Dick and Media Hack, is trying to access the original story and background information.
Do they care about Steven? Not at all. Suddenly there is a 'sexy' story, and tomorrow the Canary Wharf ghouls will be all over it. I doubt that the indefatigable Sam Smith or Lucy Series, who have done so much to help Mark Neary fight his corner, will get so much as a mention. It will probably be presented as a 'success' due to media intervention. It isn't. It is due to Mark, Sam and Lucy, who have fought on when no one was interested, with no financial support when Steven's legal aid was removed, (on the grounds that at Christmas a judge had finally ordered him home! ) It is also due, in no small part to the Blogosphere, who tirelessly re tweeted this story until it reached the ends of the earth. Without that publicity, the main stream media would have been unable to get their application to report the case – assuming that they would even have been interested.
Hillingdon Council have released a disingenuous press release saying that:
"Cases such as Steven's are hugely complex and we always have to carefully balance what we think is right for an individual with the wider issues such as the safety of the public"
The Deprivation of Liberty Safeguards are specifically to protect the patient – not the public. We have criminal law and the Mental Health Act to protect the public. Despite the lengthy judgment from The Honourable Mr Justice Peter Jackson, Hillingdon Council seem still not to have grasped the salient legal point.
You cannot deprive someone of their liberty under the Mental Capacity Act as they did Steven; merely on the pretext that you 'think' they might harm a member of the public in the future.
Hillingdon, however, had not given in yet. On the eve of the judgment, they issued a disgraceful press release that is best described in the final judgment:
On 20 May 2011, the eve of the hearing, Hillingdon circulated a three‐page media briefing note to most of the national media. The document was designed to counteract adverse publicity that Hillingdon has received, and against which it had not attempted to defend itself. Nonetheless, it is a sorry document, full of contentious and inaccurate information, and creating a particularly unfair and negative picture of Steven and his behaviour. I learned about the document by chance on the last day of the hearing, expressed dismay, and asked for an explanation. I am told that it was authorised by the Director of Social Care, the Head of Corporate Communications and the Borough Solicitor. It is now accepted "in hindsight" that an error of judgment was made in issuing the briefing note. That is indeed so, though again hindsight has nothing do with it. In addition, Hillingdon has unreservedly apologised to the court. That courtesy is appreciated, although an apology for the document is in truth not owed to the court but to Steven and his father.
I also note that Hillingdon has done its best to undo the situation by contacting every recipient informing them that I had directed that no part of it should be published in any circumstances. Again, I appreciate the intention behind this, but I should make clear that I gave no such direction. The only control that this court has exercised over reporting about Steven is in the form of the very minor restrictions on the reporting of the hearing itself, as referred to above. Other than that, the media will cover the story in whatever way it chooses, and no doubt it will continue to respect Steven's need to be left in peace, as it has done since the hearing in February.
In plain English – Hillingdon were once again trying their best to 'smear' Steven as a danger to the public, and when pulled up by the judge, they responded by pretending that their press release had to be retracted 'because the judge had ordered them not to publish it'.
Rarely has a Council been so roundly trounced by a High Court Judge.
He went on to say:
The use of DOL authorisations from April to December 2010 as a means of controlling Steven's activities was not justified on the information available to Hillingdon. As a direct result of an incident when he had not been adequately supervised, he was deprived of activities that are important to him for weeks and in some cases months, and he was prevented from going on holiday.
Hillingdon's approach was calculated to prevent proper scrutiny of the situation it had created. In the weeks after Steven's admission, it successfully overbore Mr Neary's opposition. It did not seriously listen to his objections and the suggestion that it might withdraw its support for Steven at home was always likely to have a chilling effect. Once Mr Neary's resistance was tamed, the question of whether Steven was in the right place did not come under any balanced assessment.
Between April and July 2010 Hillingdon pursued two inconsistent agendas. The professionals were opposed to Steven returning home, whether or not a final decision had been taken. The agenda so far as Steven and Mr Neary were concerned was a return home under the transition plan. It was only when the transition plan was about to lead to an actual return home that the pursuit of two agendas became unfeasible and the true view of the professionals was disclosed. The records show that the professionals were at times uneasy about this lack of frankness, but it happened nonetheless.
Again, in plain English – Hillingdon had always intended that Steven went into long term care – it is far cheaper than supporting him at home. They neither owned up to that desire to Mr Neary, nor did they legitimately have the evidence they required to bring about that outcome by use of the DOLS safeguards.
Hillingdon acted illegally. They have been censured. Now Steven will be able to bring a claim for compensation for that lost year of his life through the good offices of his Father. The Deprivation of Liberty 'safeguards' were badly thought out. They need to be properly scrutinised by parliament.
Paul Burstow, MP for Sutton and Cheam and Minister for Care Services, should be a worried man. Campaigners have been in touch with him for some time and been disappointed with lacklustre responses on these issues as well as frustrated by a perceived lack of interest. Now there are rumours that members of victims' families are preparing to call vigorously for his sacking. Mr Burstow should take the opportunity to meet with some of the more sensible campaigners to see if he can propose a more inspiring solution sooner rather than later.
The judge had this to say of Mr Neary:
I want to thank Mr Neary for the quiet way in which he has presented his case. Several times, both during his evidence and when acting as advocate, he had the opportunity to vent grievances or launch an attack on Hillingdon in the presence of the media, but he did not do so. I am sure that this is because his focus has been on Steven from beginning to end. Mr Mark Neary is an unusual man and he can be proud of the way in which he has stood up for his son's interests.
I could not agree more. Throughout all my dealings with Mark Neary, I have been impressed with his quiet determination and professionalism. He is not a lawyer, but he has mastered this difficult area of the law. He is not a public relations expert, but he has mastered the delicate task of dealing with the press. Nor is he a terrier, though his ability to sink his teeth into Hillingdon's ankles and cling on for dear life might make you doubt that. Most of all, he is not a social worker, nor a trained carer, but he has, for 20 years, given Steven a quality of care, and of life, that far surpasses anything provided to Steven by the 'care system'.
He is a remarkable individual, and I salute him.
June 14, 2011 at 11:43







June 12, 2011 at 18:53







June 11, 2011 at 23:49




June 10, 2011 at 12:23







June 10, 2011 at 11:31







June 10, 2011 at 06:21







June 10, 2011 at 05:37







June 10, 2011 at 04:18







June 9, 2011 at 22:39




June 9, 2011 at 21:41







June 9, 2011 at 21:27




June 9, 2011 at 19:01




June 9, 2011 at 18:52







June 9, 2011 at 18:19







June 9, 2011 at 17:56







June 9, 2011 at 20:19




June 9, 2011 at 17:53




June 9, 2011 at 17:50




June 9, 2011 at 17:38







June 9, 2011 at 17:29




June 9, 2011 at 16:44







June 9, 2011 at 18:53




June 9, 2011 at 16:13




June 9, 2011 at 16:09










June 9, 2011 at 19:39




June 9, 2011 at 16:00










June 9, 2011 at 15:24