Our Vera hits the headlines again.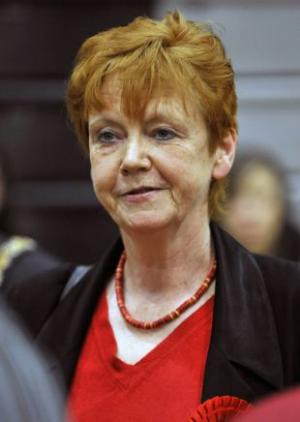 The house that Vera Baird put on the market for £315,000 last year after she had finished 'winding up' her constituents in sunny Redcar, has finally sold for £265,000.
This is the house that 'we' mostly paid for, so that Vera could continue the good works of the saintly Mo Mowlem on behalf of the benighted inhabitants of Redcar. We paid for the mortgage interest, the new boiler, the roof, the floors, the windows and furnished it for her.
Fortunately for the scrupulously honest Vera, she was kicked out of parliament the day before the change in MPs expenses rules which would have forced her to give the profit she made on this house back to the taxpayers. Still, last year Vera did say that she would be acting 'morally and properly' when the property was sold. I am sure she has done so, who could imagine anything less of her? She has, she says, 'made a donation to charity'. We do not know which charity, nor how much the donation was for; it would be uncharitable of us to assume that it was three and sixpence ha'penny to the retired Solicitor-General's fund, nor even to Astraea Research, conveniently registered to her home address in Crouch Hill, North London, the research facility she set up with her close friend, Professor Jill Radford, (pictured right) now retired from Teesside University.
Even Wikipedia claims that Vera and Jill set up the 'Astraea Institute for Gender Justice', a name closely allied to the 'Astraea Lesbian Foundation for Gender Justice' a well respected New York Foundation which has financially supported lesbian and trans organisations world wide.
However, there appears to be no trace of the 'Astraea Institute for Gender Justice', merely a Astraea Research Ltd company registered to Vera's home, which, if it has carried out any good works, has carried them out unnoticed by the rest of the world in general and the internet in particular. Jill Radford gave a lecture at the Friends Meeting House in Euston Road last October, and a month later they registered the company at Vera's home.
In January of this year Professor Radford took herself off on holiday to Cuba, her close friendship with Vera Baird, ex-Solicitor-General, apparently not alerting her to the difficulties this would create in the court case she had brought against Teesside University, for constructive dismissal caused by discrimination against her sexual orientation and age, which she knew was listed for hearing. She lost the case, and her legal representatives, The Legal Bureau, were ordered to pay costs of £52,386.35 to the university.
Our Vera has had a generous £32,383 from the Taxpayer to help her reacclimatise herself to the harsh world of having to work for a living; something made harder for her by the decision of her old chambers to demote her from full board member of Took's to humble 'Barmaid', a door tenant hustling for work with other lowly souls. She was last heard of publicly in February discussing Ugandan matters in Kampala.
Possibly why she also found the time to lick the end of her pencil and claim £1,242.83 from the taxpayer by listing £13.02 miscellaneous stationary and other meagre 'household costs' that she incurred after the voters of Redcar kicked her out. At least she didn't claim for the Taxis she once told a court she would need…..
When the gravy trains stop running, every penny counts.