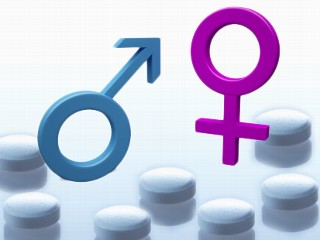 Where, precisely, does our sexual orientation stem from?
Certainly not our birth certificate which is a rough 'rule of thumb' observation recorded at a time of considerable drama. Yep, looks like a penis, that's a boy!
Self evidently, if you are stuck with something that looks like a penis and your birth certificate records you as male, yet in your heart you believe otherwise, you do have a problem. One that society is now prepared to countenance a 'cure' for. A surgical cure that is painful, time consuming, emotionally devastating, and the subject of ribald jokes by all and sundry.
It is a 'cure' that the gay lobby not only supports but sympathetically approves of.
Radical surgery, profoundly altering the body you were born with, not necessarily achieving the result you would truly wish in your heart – you can turn your penis inside out and give every appearance of being female, but you are never going to conceive a child for instance – is so supported that much of the cost may be available on the National Health these days, and there are howls of outrage from the gay lobby if anybody should suggest that this is cosmetic surgery that you should be paying for yourself.
The rationale is that gender orientation is something that cannot be changed, if you think you are a woman, then you are 'a woman', and should be surgically and legally helped to achieve the result that is based on this innate belief that surges within you. God given, genetically bequeathed? Who knows?
Logically, there is no reason to dispute any of the above – other than cost. If you believe in your heart, your soul, that you should have been beautiful, society has no objection to you using surgery to achieve the desired result. You will not become beautiful inside, but you can certainly give the impression to the world that you are 'a beautiful person' by changing your hair colour, the shape of your legs, or your waist to hip ratio, whatever. You will still know that you started life with a nose like the north face of the Eiger, but you can change the way society relates to you, with your new 'button' nose.
What then of the child labelled female by the doctor, who wishes to be a man, believes whole heartedly that she is a man in her heart? There are operations available to achieve the desired cosmetic result – and the LGBT community will be similarly sympathetic to your predicament, as will the law (eventually). You will be transformed into an individual who has the capacity to make love to a woman.
Perhaps you believe, having achieved your manly surgical result, that in fact you wish to make love to other men? The LGBT is hardly likely to condemn you, to do so would be homophobic. The rest of society would not dare.
We – society for the most part, and the 'gay lobby' in particular, accept all these transferences of ability to make love in the desired manner with relative equanimity. It is our 'human right' to be the person we desire to be, without any pressure from society or the law to be anything other than true to our heart.
Why then, is it that a person who finds themselves unaccountably drawn to making love to someone of the same sex, driven by this unknown factor deep inside them, but who wishes to be a person who makes love to someone of the opposite sex, finds it so hard to access the help required?
Any suggestion that such help might be on offer is greeted with outraged screeching and condemnation from within the very community that harbours those souls who may wish to 'change tack' as it were?
A Catholic doctor's association in Germany is the latest target. They were offering 'help' for those who believe themselves unfairly trapped with 'unwanted homosexual feelings' consisting of a 'spoonful of sugar' believe it or not. It certainly puts a new twist on the old 'more sugar in your tea, Vicar?' comedic line.
They were careful to stipulate that they 'do not believe homosexuality is an illness' but were caught offering a host of treatments to help those who 'wished to keep such inclinations at bay'.
Suddenly your human right to live your life sexually 'as you wish', rather than 'as you are forced to' has flown out of the window, condemned by the very lobby that has spent years convincing us that such a human right exists and not only exists, but we should be paying to ensure that you have it.
Neither anti-abortion group, nor lobby group vehemently anti-transgender surgery could argue as vociferously as the Lesbian and Gay Federation (LSVD) of Germany do, that the very offer of such counselling or help in achieving your chosen result is an 'insult', an 'impertinence', and should not be available.
Even if you are prepared to believe that an extra spoonful of sugar, in fact a homeopathic prescription of 'Globuli', tiny pills that consist mainly of sugar, may help you achieve your chosen result where your love life is concerned, the LSVD believe that you should be prevented from accessing such advice.
"The offerings are dangerous," said spokeswoman Renate Rampf. "They use the insecurities of homosexual or bisexual young people and their parents." Such "laughable" therapeutic ministrations are problematic because they can be "destabilizing," she said.
Yet major surgery is not destabilising? Allowing children to take 'puberty blocking' pills so that 'less surgery will be required' if they later decide to realign their sexual identity, is not destabilising?
All very reminiscent of the row in the UK, when the British Association for Counselling and Psychotherapy described Lesley Pilkington, a psychotherapist, as "reckless", "disrespectful", "dogmatic" and "unprofessional" and ruled that her agreeing to give psychotherapy to a homosexual man who was deeply unhappy with his gay lifestyle and wanted to change his sexual orientation constituted "professional malpractice".
The ruling stated that her accreditation to the organisation will be suspended and she will be ordered to complete training. If she fails to comply she will be struck off the register.
'Complete training' eh? She will be forced to listen to what they have to say, and agree with it, agree to change her beliefs and practices? That sounds remarkably like therapy to me. If she 'fails to comply' – or put it another way, if she fails to change her beliefs and practices as a result of this talking 'therapy', she will be prevented from working in her profession.
Can you imagine the outcry if a gay man was forced to listen to talking therapy, and agree to change his beliefs and practices – or lose his job? Do we have a problem with our courts forcing paedophiles to undertake therapy to alter their sexual orientation? They are only doing so as a result of societal pressure that they are wrong to 'think' in the way that they do.
Given that surgical gender reassignment and psychiatric 'alteration' of sexual preference are only tangentially linked, my main question is broad:
"In what circumstances should a medical professional REFUSE to act on the request of a consenting individual to alter their sexual identity or preference?"
Over to you….
June 7, 2011 at 21:57







June 8, 2011 at 08:12




June 7, 2011 at 17:30




June 7, 2011 at 14:11




June 7, 2011 at 12:31




June 7, 2011 at 11:51




June 7, 2011 at 11:51




June 7, 2011 at 10:35




June 7, 2011 at 10:10




June 7, 2011 at 09:01







June 7, 2011 at 06:55




June 7, 2011 at 02:16




June 7, 2011 at 00:06




June 6, 2011 at 21:27







June 6, 2011 at 19:22







June 6, 2011 at 19:20




June 6, 2011 at 18:43




June 6, 2011 at 18:18










June 6, 2011 at 17:46




June 6, 2011 at 17:27




June 6, 2011 at 17:24




June 6, 2011 at 17:10




June 6, 2011 at 16:51