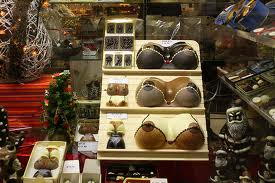 So there you are – a responsible parent, anxious only to do the best by your children.
It's your son's 12th birthday, a celebration is called for! What are you? 30, 35? Certainly the right age to have lived through the 80s and the naughty nineties, you know a thing or two about street culture; you know not to order 'Uncle Fred' and his 'magic puppies' as entertainment for a group of exuberant 12 year old boys.
A restaurant, the very thing, positively grown up! You scan the Yellow Pages – 'The Fat Duck'? – Too expensive. 'The Priest and Choirboy'? Best not, too close to Uncle Fred. Ah! Here's the very thing – 'Hooters', big noses, breasts, cannabis cigarettes? Ignore the last two suggestions, it probably means big noses, just like red nose day. Phone them up and ask if they can arrange a birthday party – they can! Wonderful.
Turn up with your 12 year old son, eye the waitresses in hot pants and skin tight t-shirts, ignore the raucous atmosphere with groups of leering adolescent men drinking themselves under the table – and then pass out with shock, outrage, and distress when the birthday cake brought to the table turns out to be in the shape of a pair of breasts….
What were you expecting? A cake in the shape of a joint? A jolly red nose?
Naturally, you then do your level best to get the restaurant closed….you organise a petition; gather round you po-faced women who can come out with phrases like:
The ethos and brand of the company revolve around the sexual objectification of the waitresses (Hooters only employs female serving staff). Bristol should be working to improve the status of women in the city and to redress the gender imbalance, and should not allow a restaurant to open up which relies on the objectification of its female waiting staff. Allowing a 'Hooters' restaurant to open up runs counter to the city council's gender equality duty and would do nothing to work towards promoting the status of women and girls in our city.
Dear God! Has everyone in Britain taken leave of their common sense? Why didn't you take him to a lap dancing club, like any sane parent? Now Bristol Titty Council (sic)are 'carrying out an investigation' to see whether 'Hooters' should be allowed to stay in business.
Elsewhere, Ben Douglas, a 'D' list TV presenter, has received an apology from James Brown, a 'D' list celebrity hairdresser, for 'racial abuse'. It seems that James got drunk and called Ben a 'nigger' eight times (Ben counted carefully) – in the presence of witnesses no less. The spelling matters. Had James called Ben a 'nigga' – pronounced in exactly the same way, he might have got away with it. Nor is it just the spelling that dictates the word's usage. In the mouth of another black person, the term is one of endearment, in common usage.
For instance, a show on Black Entertainment Television, a cable network aimed at a black audience, described the word nigger as a "term of endearment." "In the African American community, the word nigga (not nigger) brings out feelings of pride" (Davis 1). Here the word evokes a sense of community and oneness among black people. Many teens I interviewed felt that the word had no power when used amongst friends, but when used among white people the word took on a completely different meaning. In fact, comedian Alex Thomas on BET stated, "I still better not hear no white boy say that to me… I hear a white boy say that to me, it means 'White boy, you gonna get your ass beat.'"
How perfectly racist!
rac·ism/ˈrāˌsizəm/
Noun: The belief that all members of each race possess characteristics or abilities specific to that race, esp. so as to distinguish it as inferior or superior to another race or races.
Ben wails in print 'How dare a white middle class friend of Kate Moss call me the N-word eight times'?
A word becomes racist when uttered by a white middle class boy? You assume that as a member of a specific race James possesses a specific ability to intend offence?
How racist is that, Ben?
Now Boot's pharmacy chain are 'carrying out an investigation' to see whether they dare risk carrying the 'racist' James' hair products in their stores.
Have you nothing else to worry about in Britain, besides taking offence?
June 7, 2011 at 18:46







June 5, 2011 at 23:48




June 5, 2011 at 21:55




June 5, 2011 at 17:56







June 5, 2011 at 17:32




June 5, 2011 at 16:53




June 5, 2011 at 16:29




June 5, 2011 at 15:40







June 5, 2011 at 15:37







June 5, 2011 at 15:30




June 5, 2011 at 11:29









June 6, 2011 at 13:20




June 5, 2011 at 10:26




June 5, 2011 at 10:16







June 5, 2011 at 09:36