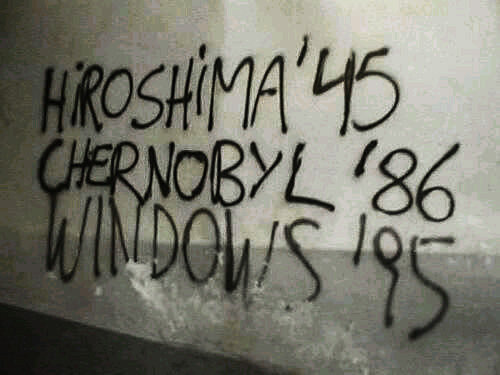 When M16 use GCHQ computer experts to hack into Middle Eastern computers and replace bomb making instructions with a recipe for cup cakes, it's a bit of a giggle, What Ho! Boys, just a jolly jape.
When US and Israeli computer experts infected Middle Eastern industrial computers with the Stuxnet virus and wiped out the programming for their nuclear plants, all was declared 'fair' in cyber love and war – Iran might not have been planning to use its proposed nuclear weapons to bully and cajole non-nuclear countries into behaving in the approved all-American way; heavens, they might even have had their own agenda.
When a bored Chinese teenager in Jinan sends a daft Pentagon official an e-mail asking him ever so nicely if he would care to enter his Google password into this nice little box, it becomes an act of war. One that requires a change of the rules in US military engagement allowing them to respond with the full force of Uncle Sam's big box of big bangs.
According to the Pentagon, planned retaliatory strikes against cyber criminals can come within the gamut of laws governing armed conflict.
"When warranted, the US will respond to hostile acts in cyberspace as we would to any other threat to our country," the White House said a fortnight ago.
I doubt that even the famously loyal and supportive Mrs Gary McKinnon would take kindly to a Cruise missile shearing its way through the shag pile carpet only to embed itself in the pet hamster's cage and ruin her celebrated soufflé, merely because young Gary got a bit bored and thought he'd e-mail Hilary Clinton and ask her if she could give him her paypal account loggin – which appears to be roughly equivalent to the sinister and evil 'hacking' that is being alleged to have been undertaken by the Chinese government.
The latest Gmail hackers, who launched the attack from Jinan in Shandong province, tried to take total control of the targets' gmail, including login details, settings, mail forward patterns and other functions.
Well, of course they could sweetie, if you've given them your password – and several highly placed Pentagon officials seem to have done so – they can do whatever they damn well please from them on. You're lucky they didn't send an e-mail to the Pope claiming that they know for a fact that Barack Obama is actually a Chinese Buddhist born in North Korea, they could have done you know, they're damned clever these 'hackers' once they've got your password. They could have cancelled your gym membership, invited your wife and your mistress to lunch together – those inscrutable Chinese, nothing is beyond them. In fact, I'll bet you that they had discovered some incredibly complex way to ensure that if they clicked on 'new e-mail' once they'd logged into your account, an exact replica e-mail form would have popped up that they could have addressed to just anyone in your address book….incredible skill these hackers.
Sneaking into the email systems of high-profile sensitive targets could be just a precursor to daring attacks on critical computer networks supporting a country's security. The U.S. has realized the scope and gravity of cyber attacks and their utility in real warfare.
Oh, it could, it could….
That is why the U.S. decided to change it military rule book to accommodate provisions for retaliatory strikes on hacker groups and their state sponsors.
Yes, unmanned drones heading into the 17th floor back bedroom of Nelson Mandella Towers is definitely the way to deal with the problem.
So much easier than telling your top officials not to be so daft as to give their password to anyone.
I wonder if one of those Chinese hackers would be kind enough to hack into my old annaraccoon@gmail.com account?
I was so security conscious; I didn't even give myself the password.
June 4, 2011 at 21:02




June 4, 2011 at 02:16




June 4, 2011 at 02:04




June 3, 2011 at 23:52







June 4, 2011 at 01:05







June 4, 2011 at 13:10







June 6, 2011 at 16:53




June 3, 2011 at 21:51












June 3, 2011 at 21:05




June 3, 2011 at 14:41




June 3, 2011 at 14:37







June 3, 2011 at 13:49







June 3, 2011 at 16:29










June 3, 2011 at 19:59










June 3, 2011 at 21:01