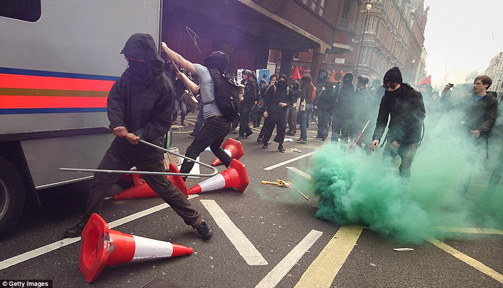 The public school educated Ed Miliband believes that 'the best of the country we love' is represented by non-jobs in the public sector supporting those who contribute nothing to the economy.
Britain owes £876bn in total – all that Osborne and co are promising to do is not borrow any more than that – in four years time! In the meantime they have made no attempt to actually pay off that £876 billion, no one is even talking about it – the argument is totally about how much we should increase it by.
Just how long do Miliband and Co think the rest of the world is going to wait for their money?
Is that really the best of Britain? Is that what remains of a once proud country? A vast pool of the helpless, the disadvantaged, the sick, the disabled, the discriminated against?
He called for people to 'fight' to preserve the towering edifice of support services – and 'fight' they did.
They smashed up the premises of a charitable organisation whose 450 employees relieved the rich of £56 million and returned it to its holding company which promptly redistributed £37.6m to 1518 different charities. In Milibandland this is obviously a despicable way of carrying on. If Fortnum and Mason's have any business savvy whatsoever, they will not promptly relocate to somewhere like Monaco, where they can continue to relieve the rich of their millions and despatch their hampers by mail order without feeling any ethical need to support Britain's helpless or disadvantaged.
They smashed up the offices of Singapore based HSBC, the one High Street Bank which neither asked for, nor needed, bailing out by the government, and which is shortly to make a decision as to whether to pull out of Britain altogether.
They smashed up the premises of Topshop, a company which has made millions out of bringing cheap affordable clothing to those who are not rich – apparently in revenge for Sir Phillip Green only paying that tax which the British tax laws say he should pay. The British tax laws also say that every single person can legally avoid paying any tax whatsoever on the first £6,475 of whatever you earn. Are we about to see UKuncut insisting that it is only 'fair' that everyone should hand over an additional £1,295 in tax – why should Philip Green be singled out simply because the figures are large? Let's abandon all tax relief – everybody gets to pay full tax on everything they earn.
In a final irony, they smashed up property belonging to Lloyds Bank, 40% owned by the British public. 40% of the bill for repairing the damage will be paid from the money that might have gone to the public sector, but what does that matter?
The BBC, 100% owned by the British public, was cringingly supportive of this nonsense, Newsnight produced this gem:
'UK Uncut is a new kid on the block. They only got together after the Chancellor's Budget cuts last year but they've already got quite a following. They are a social media success story and more than 1,000 of them will be out tomorrow. They think that's more than enough to close down shops and banks.'
Right, so you close down all the banks and shops, you chase all the entrepreneurs out of your God forsaken communist haven, no more tax relief for anyone left, who is going to pay for all those helpless vulnerable poor then?
According to UKUncut's own web site, 'During and after the march, activists from UK Uncut turned banks and tax-dodging stores on Oxford Street into hospitals, libraries and homeless shelters'. Has anybody seen any evidence of these new hospitals set up in Topshop or Fortnum and Mason's?



March 29, 2011 at 21:36




March 27, 2011 at 23:04




March 27, 2011 at 22:13




March 27, 2011 at 19:40







March 27, 2011 at 22:11







March 27, 2011 at 18:02







March 27, 2011 at 15:35










March 29, 2011 at 20:21




March 27, 2011 at 15:31










March 27, 2011 at 20:29




March 27, 2011 at 14:34




March 27, 2011 at 14:03







March 27, 2011 at 13:53







March 27, 2011 at 13:34







March 27, 2011 at 13:30




March 27, 2011 at 12:20







March 27, 2011 at 13:46




March 27, 2011 at 12:18




March 27, 2011 at 12:15









March 27, 2011 at 11:38










March 27, 2011 at 12:06









March 27, 2011 at 12:45










March 27, 2011 at 15:36




March 27, 2011 at 16:49




March 28, 2011 at 22:21







March 29, 2011 at 20:24




March 28, 2011 at 19:43