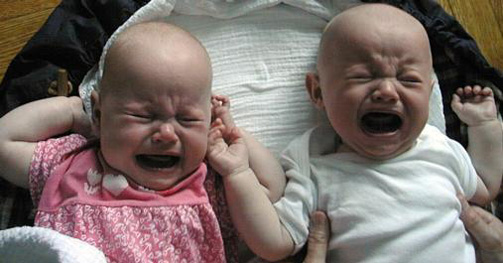 The Twins are silent so far this morning; sucking on their dummies as they try to work out whose piggy bank Daddy Osborne raided to avoid the inevitable tantrum when they pass the sweetie display.
A strange calm in the Blogosphere; Little Leftie Peter is confident that Paul had enough in his piggy bank to pay for smarties and jelly babies and everything. First born, and thus 'always Right' Paul is placidly content that Daddy will reduce his twin to hysteria by choosing to pay for a nice educational toy instead.
Like Liverpool dockers, neither of them has even considered the option that Daddy might make them earn their 'greedy bags'.
The Left wing bloggers have been screaming blue murder for weeks now, outraged that the 'spoonies', those whose sickness is not instantly apparent, a term frequently employed by Sue Marsh in her eloquent and prolific posts detailing why Doctors shouldn't be employed to decide if they are totally sick or just sick occasionally. Sorry, my mistake, it is government funded Doctors who can't possibly be trusted to decided whether someone who is eloquent and able to write every day shouldn't go and get a paid job being eloquent and writing every day – and yes, I do know that the GP who gave them that precious sick note that entitled them, so they thought, to never having to do another paid day's work again is actually paid by the government himself, but it's different see?
The GP understands that just because you troop off to Bingo three nights a week, that is a relief from the never ending agony of your bad back, and doesn't mean that you could just as easily sit behind the Bingo callers desk and earn your living that way if you enjoy Bingo that much. Those government funded Doctors that decide that you are not complete useless, they are part of a conspiracy to pay back the bankers stolen gold by cutting your bingo allowance. Got that?
The Right wing bloggers have had their tantrums too; there they are, working hard, why shouldn't the government do something to prop up their God given right to a profit on their house? Give them a handout for producing children? Wasn't that bonus part of their contract? How dare a government that believes in law and order ignore their contractual right? Why they might just run away from home…
Peter and Paul, happy to see each other robbed, just you wait till they get to the sweetie display and realise that neither of them are going to get anything.
Even the spoilt twins are going to realise that the childish games have come to a full stop and they will have to pay their debts like real grown ups.
March 24, 2011 at 19:17







March 25, 2011 at 20:56




March 24, 2011 at 16:11




March 24, 2011 at 15:37










March 24, 2011 at 13:35




March 24, 2011 at 11:07












March 24, 2011 at 20:06