The reclusive Bin-Mustapha i-Dentity of Benghazi.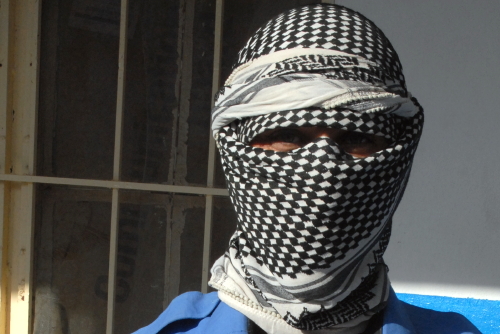 Anybody got any idea who he is? Where he is? What he stands for? How he feels about selling oil to Europe? Does he live in a cave? A house? Wife? Children?
We know the British government sent a delegation to meet you, the French even accorded you 'diplomatic recognition'. We are just the humble mugs paying for your attempted coup, perhaps its none of our business.
I only ask because so far we have B-2 stealth bombers, Growler and Harrier aircraft; the destroyers USS Barry and USS Stout firing Tomahawk cruise missiles; the amphibious assault ship USS Kearsage; the command and control vessel USS Mount Whitney; Spanish, American and British submarines, French Rafale and Mirage aircraft; refuelling and surveillance aircraft; the aircraft carrier Charles de Gaulle and escort ships, Typhoon and Tornado aircraft with all their refuelling and surveillance aircraft; a Trafalgar-class submarine firing Tomahawk cruise missiles; the frigates HMS Westminster and HMS Cumberland, Canadian Tornado aircraft; and the Canadian frigate HMCS Charlottetown; Spanish F-18 aircraft with their refuelling and surveillance aircraft; and some Danish and Belgium F – 16s, all fully employed making sure your supporters don't get fired on from the air whilst you try to topple Gadaffi.
You'd think someone who could muster that sort of support would have his own PR man to tell us something about himself – but not a word. Silence.
Mystifying Mustapha – who are you?
Shouldn't we be told?
March 23, 2011 at 20:48







March 24, 2011 at 01:46




March 23, 2011 at 20:05







March 24, 2011 at 01:45







March 24, 2011 at 17:39




March 23, 2011 at 17:46




March 23, 2011 at 15:26




March 23, 2011 at 15:08







March 23, 2011 at 14:38




March 23, 2011 at 14:25




March 23, 2011 at 14:21




March 23, 2011 at 13:52