Cherie Blair | The Fragile Ego and I.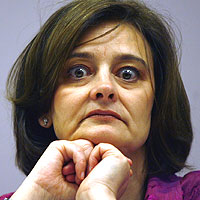 Handbags are so last year. Time was when a £2,500 freebie Hermes handbag was enough to boost the fragile ego of fading celebrity. That badge of office appears to have fallen by the economic wayside.
The latest gift to the overlooked ageing celebrity is cut price defamation rebuttal. Never heard of it? It's here. Restaurateur Kenneth Tong's bequest to the world of damaged image rights and lack of publicity.
Whilst some of last year's men and women flock to make fools of themselves on the dance floor or ice-rink, and some show off their caring pugilistic side flogging insurance, the truly stylish has-been is over on Tong's emporium.
There does seem to be a preponderance of left wing celebrities on there – I was particularly enamoured of Bianca Jagger's refutation of the oft quoted story that she 'rode a white horse into Studio 54' – she didn't, it's a blatant lie, see? It was her birthday and someone else bought the horse into the nightclub as a surprise, and she only 'briefly mounted it'. It was 30 years ago, and that 'blatant lie' still burns into her conscience and the record must be put right.
One of the most prolific users of this new site is the most celebrated left wing lady of all – Cherie Blair. Entry after entry – refuting such important details as the designer of a dress that she didn't wear anyway……
I was puzzled by that, for to buy a page on this site to refute incorrect claims on Twitter or elsewhere about yourself will cost you £650, a fraction of the price of a new Birkin bag, but why would one of our top lawyers waste her money like this?
Ahhh! Kenneth Tong gave away 30 free pages to top celebrities to get the web site off to a good start. Anyone care to bet that Cherie was just availing herself of another freebie?
Of course in no time at all, the hoi poloi will be clamouring to use this service and we will see the likes of Jordan Price on there – 'me tits didn't cost £5,000, they wuz £5,750', and then there will be the inevitable 'designer rip-off' copy sites where Kylie and Jason will slog it out through the night –'he sez im a cheap slg, but the last geezer I hd gimme £10,000, thts nt chp isit'?
Truly inspired. The site will be a winner – I must stop laughing, I'll never get any work done today.