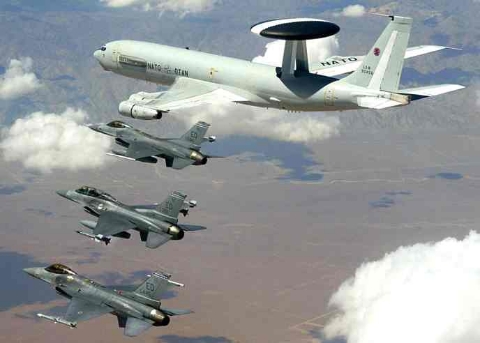 I listened carefully to David Cameron's speech on to the Scottish Conservative Conference on Friday as he made his case for intervention in Libya by enforcing the "No Fly Zone".
He made a strong moral case. Could we really stand by as Gaddafi imposed a reign of terror on his own people? Surely not. And he made the case clearly and forcefully on legitimacy (sanction from the UN) and, crucially, on the UK's strategic interest, pointing out the dangers of an unstable and once again pariah regime on Europe's southern border, in particular the threat of mass migration in the face of terror.
As a performance I thought it was measured, clear and highly persuasive.
But that's the problem, isn't it? Cameron is good at his job, and part of his job is to persuade. Just as Tony Blair did.
Once again we are presented in the media by what seems to be less of a war and more of a video game, with points awarded for bad guys "killed" (it's not real you know) and perhaps subtracted if there is a touch of "collateral damage".
It is also assumed that that there will be no come backs; that this is a war which takes place a long way away, and we may safely digest it on the rolling news channels, perhaps sustained at suitable intervals by tea and biscuits.
But politics and war obey the immutable laws of the universe just as does the physical world. One of those immutable laws is Newton's Third Law: for each and every action there is an equal and opposite reaction.
How that reaction is expressed is another matter, but it cannot be avoided. We just don't know what it's going to be. It is another way of describing what regular contributor SadButMadLad called The Law of Unintended Consequences.
Air power is all very well, but we live now in the world of "asymmetrical" warfare, in which the combatants do not play by the West's rather refined rules of fair play. If Gaddafi remains in power he will hit back with whatever unconventional means he can, and that could mean a bomb on a bus, a plane or a train in Paris or London. After all, Gaddafi has form for that.
Already I hear there are rumblings of division and splits with Arab countries. Saudi Arabia, with its large and largely British armed and trained air force, is doing nothing. I hear an analyst explain that the Saudi Government, itself experiencing unrest, is furious at apparent Western support for the fall of Mubarak in Egypt.
Despite what may be the best of intentions, once again the Arab world sees America, Britain and for once France bombing a Muslim country.
Here we go again…..
Gildas the Monk
March 22, 2011 at 01:13










March 22, 2011 at 08:54




March 22, 2011 at 10:22







March 21, 2011 at 23:07







March 21, 2011 at 20:49







March 21, 2011 at 19:49




March 21, 2011 at 19:47




March 21, 2011 at 19:39




March 21, 2011 at 18:46




March 21, 2011 at 18:33




March 21, 2011 at 17:59







March 21, 2011 at 23:07