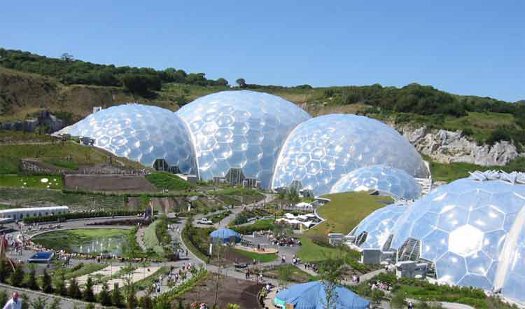 When it comes to The Deficit, I am a curious bird perhaps unknown to Mother Nature, a pragmatic hawk. I think serious cut backs had to be made or we would, later or more probably sooner, have developed our very own version of Fantasy Ireland (see what I did there?) with more savage cuts imposed from beyond these shores.
I am also aware of the risk of the feared double dip recession and, I hope, open minded to sensible argument and another point of view.
With these points in mind, on Monday, whilst ironing my cassock at lunchtime I tuned my radio in to Radio 2 searching not for dialectic, or even for God, but for some Celine Dion, or even better, Shania Twain.
Instead I found that I was listening to an interview on the Jeremy Vine show with a gentleman of whom I'd never heard. His name is Tim Smit. He is an Anglo Dutch entrepreneur and he is co founder and chief executive of the Eden Project. That is the innovative and hugely successful eco project and universally praised attraction based in Cornwall.
Mr Smit is a bit of a "green", but I very quickly realised I was listening to an interesting and experienced individual who had valuable views into the present and future and shape of the economy. Views which made sense, or which invited considered thought. He sounded urbane and measured, but he still castigated bankers and had a good swipe at politicians and the obsession with university education too. I was very engaged. So much so that I was sufficiently impressed to go back and listen to the full interview on the BBC 2 website which for a short time can be heard here.
The interview is towards the end of the show at about 1.40 pm. However, here are a few quotes which I have transcribed as best as I can.
On investment and spending:
"Very often, if you just throw lots of money at something you cover up your lack of ideas by producing something [at the start] that just looks big and flash as opposed to thinking it through properly"
"In this country we are too run by accountants"
On manufacturing and "the service economy":
"I would say the greatest problem we have in this country is that if we allow those who are currently in authority to make us believe we are doomed to become a service economy to the rest of the world. They should be shot. We were the finest manufacturing nation in the world and in the next 20 years we will lose that memory…"
"When you see the bright young people who are inventing fantastic things… if we invested in them we would create a new range of industries, but no, no, we allow the bankers to squander that money elsewhere…"
On geothermic energy (which is not a topic I had even heard of or considered before but involves the ability to source energy from the earth's crust, which the Eden project is helping to pioneer ).
"If we were to be bold and have an industrial revolution, where we said: "We are an island and isn't it madness to be dependent on energy that comes from places that are a bit dodgy and from types of energy that we know we are going to be getting rid of over the next 20 to 30 years?"… the ability for us to become energy independent..[would be worth the cost and extra borrowing ]… "
On the Banks and the City:
"I think it [the City] has got a hell of a lot to answer for. The banks should have very low taxation when they are lending money to people who are actually making stuff and very high taxation when they are gambling on foreign currency…"
"British bankers who allow themselves to gamble on the decline of their own currency are guilty of treason"
"Personally I think the level of negligence and the way the bankers have asked us to forgive them…it's unbelievable…every person in this country has suffered as a result" [of their actions]
On government spending and unemployment:
"The greatest priority has to be not to have this huge waste loss in human capital. Don't forget that every person who is not working and not contributing is also a cost and some of the conversations behind the cuts are rather artificial. If you were in a limited company, OK, you cut staff and the costs come off your bottom line. But if you're the government cutting costs they are just coming from one part of your budget and going into another and then you have all this wasted intelligence not going anywhere. I would prefer to gamble on being able to make things and create things which are actually wanted by someone…"
On education:
"I passionately believe that we have overrated the influence if the university system and under appreciated the contribution of those who have what traditionally were called blue collar skills. The engineering that this country made great actually came out of people who were getting their hands dirty and we need to be proud of that hands dirty tradition and bring it back"
On politicians:
"Whenever I come to London and talk to politicians I am always struck by how few of them have had a day job….It's as if they have never taken a big risk. They seem to suffer from a fear of being disliked so they want to be all things to all people, and they don't actually have the faith in the British people that I believe they should have"
"We are not "consumers"…we are not! We are stakeholders in this country! We are not there to be just blathered [at]…!"
Now it can be pointed out that Mr Smit had a lot of local government and Lottery funding to get the Eden Project of the ground. I don't know how much. Mr Smit agrees. He says that he used it to get the Project built and says that that since then it has been self sufficient and generated a great deal of money for the local economy, and one assumes, himself. Presumably he is paying some of it back – I don't know, but if not that's for local government and the Lottery to answer for and their representatives may be guilty of misfeasance.
But I was interested by his passionate yet clear and reasoned arguments about how we should look to restructure and refocus the economy towards "hard" hands on skills and away from the Casino of the City. Views which, I have to say, he put more attractively in a 10 minute interview than Call Me Dave has managed to do in over about a year.
I heard someone who had achieved something real, built a vision which seemed if not impossible, unlikely, seen it through and made it work. And that is a spectacular success. Someone with a vision for a real economy based on flourishing new technologies, not just institutionalised spread betting using the your money; which is a perfectly accurate summation of a large part of what brought about the banking crisis.
I found the idea of a heavy tax on profits from non what is essentially non productive lending and incentives for lending to manufacturing rather appealing. Yes, I can see the problems, but I was still engaged. Of course, governments fear the loss of income if banks move off shore. But should we not perhaps have feared the damage that the banks who have had to be bailed out did more? In net terms, if one weighed the taxation income from banks over say the last 10 years against cost of bailing them out, what would be the result? I don't know, but I wonder if the banks are the cash cow governments thinks. But then, governments think short term.
A huge investment to fund self sufficiency in energy? Well, the country is cash strapped but one can see the sense. As a nation we are heavily reliant on foreign gas and now electricity, for example. Strategically, one might suggest that is not a good idea. And have not recent events in Japan confirmed we may need an alternative to nuclear energy? The costs may be high, but would this not be worthwhile investment? Should I reconsider my view on public spending?
Maybe geothermic energy is pie in the sky. But so was the Eden Project, once. So was the V8 engine, by the way. Henry Ford had the idea. His engineers told him it couldn't be done. He said "build it anyway." His engineers tried, and failed. He told them to try again. They did, and failed again, repeatedly. He persisted. And the rest is history.
As I say, there are issues with details but here was a man with something to say, even if there are matters upon which I might disagree.
I was quite uplifted and engaged.
And then it all went so very, very, horribly wrong. For after his interview finished I made the crucial mistake of turning over to Radio 5 Live, which now that Simon Mayo has gone from the afternoon slot is a bit like turning up at an old friend's house only to find out that he's dead.
And there HE was, all his pie stained ermined glory wafting through the airways.
For Lord Prescott of Pies was being interviewed. Bloated on expenses and his vast pensions, intellectually slack, a dribblesome bore, rooted in class prejudice. Blustering, rude and incomprehensible, doing for the English language what Dutch Elm disease did for the National Trust.
I would not engage with this man unless it was with a howitzer.
I tried to remember one achievement of his. One thing that he had done. One policy that made a difference. I could call to mind only one. Something to do with knocking down old houses. Yes… I remembered reading about it. That's the one where old houses were bulldozed on the promise of new ones (communities being destroyed in the meantime) when it would have been cheaper and more sensible to renovate the old ones.
And the promised new houses weren't built anyway, by the way. The Government couldn't get planning permission for them and ran out of money anyway. Whizzo, John!
After a few minutes my brain rebelled, and I returned to my cloister. I pondered Prescott's pension and perks, ennobled and carefree. I pondered my own lack thereof. I considered who was more fit for high office: Prescott or Smit? It wasn't a hard question to answer.
By the way, if you are pondering on the title, I suggest you "google" it.
Gildas the Monk
March 19, 2011 at 08:53




March 16, 2011 at 19:41




March 16, 2011 at 16:26







March 17, 2011 at 14:11




March 16, 2011 at 12:57










March 16, 2011 at 21:19




March 16, 2011 at 11:31




March 16, 2011 at 11:21




March 16, 2011 at 11:16




March 16, 2011 at 11:04







March 16, 2011 at 10:19




March 16, 2011 at 09:40







March 16, 2011 at 09:06




March 16, 2011 at 08:46










March 16, 2011 at 09:05







March 16, 2011 at 08:43







March 16, 2011 at 09:02







March 16, 2011 at 11:25







March 16, 2011 at 16:59







March 16, 2011 at 19:38




March 16, 2011 at 07:43







March 16, 2011 at 09:10




March 16, 2011 at 07:42







March 16, 2011 at 08:56




March 16, 2011 at 07:41







March 16, 2011 at 06:22