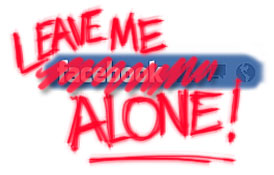 Dear Mr Zuckerberg
"Thanks for your feedback. Over time, this information helps us deliver more relevant adverts to you."
I don't want relevant ads. In fact I don't want ads at all. You've managed to provide me with even less relevant ads each time, so why even bother to provide me with that platitude when I explain why I don't want the stupid ads? If I dismiss an ad for a poxy mobile phone I don't desire, why serve it up again? Who are you to tell me I need to lose weight? Do you really think I'm at all interested in credit cards, foreign holidays, satellite television, or a million-and-one other things? None of the ads you've ever served up have been relevant to me, ever.
I realise I'm just advertising fodder to make you even richer, but please just stop it. I have an adblocker installed in my browser. Sadly, you keep circumventing it, and it's beginning to wear my patience thinner. Every time I refresh the page, I have to block the same ad again. It's boring, but I refuse to kowtow and let you litter my home page and profile page with adverts for stuff I don't want.
I know you're not listening to me. If you were, you'd have deleted my account for me due to the expletives I've showered across the comments box each time I dismiss an ad. I only remained a member of your stupid social network because all my friends were there and I enjoyed the company. If it wasn't for my loyalty to my friends, I'd never have joined in the first place.
In fact, stuff your social network! I've done with it. I know you won't miss me, but I'm out of here. Good riddance to Facebook!
Yours
Snaptophobic
March 17, 2011 at 16:34







March 17, 2011 at 19:45




March 17, 2011 at 13:06




March 17, 2011 at 12:39




March 17, 2011 at 12:25










March 17, 2011 at 10:31




March 17, 2011 at 09:57




March 17, 2011 at 09:31




March 17, 2011 at 09:03