Jumping the Shark on Red Nose Day.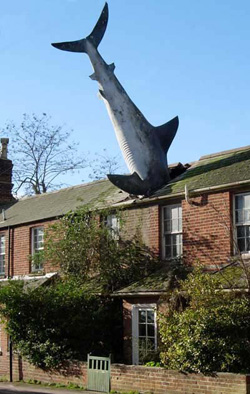 Do you remember the Headington Shark? In the early hours one day in August 1986, it burst through the Bill Heine's roof. Naturally, it had not planning permission. Nor had Oxford City council got a sense of humour. They objected on the grounds that the shark was a 'large and prominent feature in the street which detracts from the otherwise harmonious appearance of the terrace. It is out of place in this locality. There is no reason why such a large and prominent detracting feature should be permitted to remain'.
After four years of doing battle royal with the Planning Committee trying to gain retrospective planning consent he appealed to the Secretary of State – then Michael Heseltine. There he had more success, the inspector said at the time:
"The Council is understandably concerned about precedent here. The first concern is simple: proliferation with sharks (and Heaven knows what else) crashing through roofs all over the City. This fear is exaggerated. In the five years since the shark was erected, no other examples have occurred. Only very recently has there been a proposal for twin baby sharks in the Iffley Road. But any system of control must make some small place for the dynamic, the unexpected, the downright quirky. I therefore recommend that the Headington shark be allowed to remain."
How about a giant red plastic nose on a roof with no planning permission? Is that unexpected, or quirky? It doesn't have to be apparently. Oop in Blackburn, the local Planning Committee have been invited to consider the case of the red plastic nose which has appeared on top of a derelict care home without planning permission. They have decided that the red nose was a 'prominent addition' to the skyline, rather than the 'prominent detraction' which was the accusation hurled at the little shark. Besides, there was already a 'proliferation' of red plastic noses on the Blackburn skyline. 45 of them in fact. They have recommended awarding it planning permission.
If only Mr Heine had called his house a Pesque, and claimed to be worshipping an ancient fish therein. He would have saved himself so much trouble.