Lie Back and Think of Government.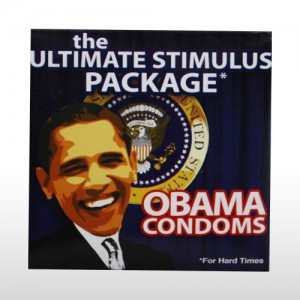 The Government becomes ever more inventive in getting Nanny's message across. Now beer mats and beer glasses are to display the calorie count – will they have a different glass for each beer? Fast food chains and sandwich bars are to display calorie counts on menus – will Dirty Dick's Diner have the means to work out the calorie count every time he changes his bacon supplier? Pizza Hut are to 'encourage customers' to order 'healthier options' – 'no, not the double crust cheese pizza we've been advertising for weeks, have the Iceberg salad with no dressing….'
It all reminded me of a small item I saved from last year – point of sale advertising. Just as you were in danger of getting rumped by George Bush yet again, the Graphic Amor Company bought out a special pack of Obama condoms – printed in full colour with his picture and the promise of 'seeing you safely through hard times'.
The British Government are world leaders in the art of dishing out free condoms, not only to our own citizens; we litter the world liberally with the products of Mssrs. Durex & Co. £45 million pounds worth donated to Nigeria alone; £22 million pounds worth to Kenya – the statistics make your eyes water – Britain donates more than a 1,000 condoms a minute.
What a wasted advertising opportunity! Admittedly some of the Government's messages – 'Have you posted your Tax return?' for instance, might have a deflating effect; but 'have you eaten your five a day' – even 'R U 16' could have possibilities.
"Wear your politics with pride, standing up for the Conservatives".
"I'm a Limp-Dem"
"Vote Brown for the ultimate stimulus package….."
"Standing up for Balls"
Any more suggestions? I'm off to get me Rubber Mac.