Dog Bites Man – part 734.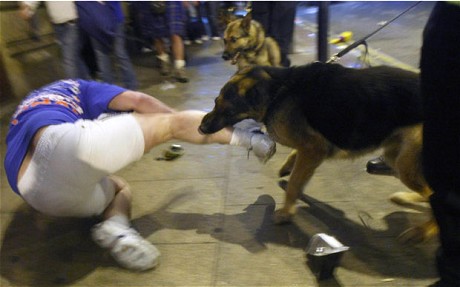 What is a dog – other than something with four legs and a tail?
Either a pet or a working dog, yes?
If it's a working dog, it's got a job to do – finding something or stopping someone or something going somewhere it's owner doesn't want them to go?
Pretty simple, yes?
So, a police dog would be a working dog, with four legs and a tail that was supposed to stop someone going somewhere? How is it supposed to do that other than to bite them – am I being naive?
I must be. Last year 2,725 suspects were bitten by police dogs. Good dogs, obviously?
Then why has ACPO just announced that they have paid out £770,000 in compensation to them for getting bitten by the naughty doggies?
I can understand (possibly) the '155′ members of the public who got between the dog and his quarry and received compensation for getting bitten, but the 2,725 suspects – that leaves me baffled.
What is the dog supposed to do? Just 'woof' at them?



March 13, 2011 at 11:37







March 12, 2011 at 22:37










March 12, 2011 at 22:45




March 13, 2011 at 08:04




March 12, 2011 at 21:18




March 12, 2011 at 21:01







March 12, 2011 at 20:25




March 12, 2011 at 20:11




March 12, 2011 at 19:18










March 12, 2011 at 20:04







March 12, 2011 at 17:50







March 12, 2011 at 19:13










March 12, 2011 at 19:38







March 12, 2011 at 17:31




March 12, 2011 at 17:24










March 12, 2011 at 17:29




March 12, 2011 at 17:02










March 12, 2011 at 17:28







March 13, 2011 at 11:36




March 12, 2011 at 16:00