What Every Young Bride Should Know…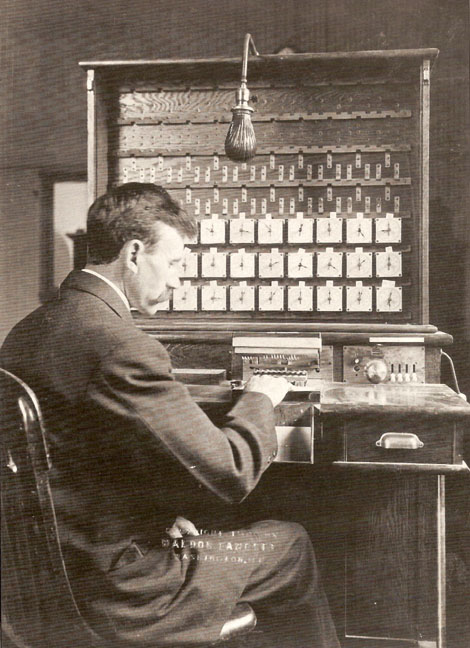 Back in 1970, an acquaintance of mine put an advert in the Daily Mirror. 'What every young bride should know before marriage, full colour pictures, 230 pages of explicit step-by-step instructions, only £5.10s, sent in discreet plain cover.'
He made enough money out of that advertisement to buy a primitive punched card tabulating system. Not quite as primitive as the one above, but not too far removed. He used it to establish one of the first computer dating agencies and went on to become a millionaire.
The books he was sending out only cost him 10s each, but were sufficiently unusual in those days, with the Kinsey report on everybody's mind, and copies of the Karma Sutra still rare, that lateral thinking wasn't applied. Only after they had scurried down to the garden shed clutching their plain brown package did his customers realise that they were now the proud owners of one of the first all-colour cookery books.
I was thinking about this the other day after reading one of those 'questionnaires sent to self referencing group turned into press release' magically appeared as a news story. The questionnaire was sent out by one of the largest mortgage default insurance companies in Europe; they had sent it out to MPs who reported back to them in droves that if only mortgage companies would make more use of expensive default insurance, why every young couple, especially those who couldn't tighten their belt to save a deposit could have a 100% mortgage again. With all their constituents in negative equity wouldn't the world be a wonderful place once more?
When did the world change so that everyone should be able to have everything they wanted, as soon as they wanted, without any effort at all? I blame those early cookery books myself.
The post war generation looked in the fridge – if they were lucky – or more usually in the larder, to see what they had. They conjured up a meal according to the ingredients on hand. If the thyme had started sprouting in the garden there might be thyme to add to the rabbit stew, if not, there wasn't. If the hens weren't laying, you forgot about eggs.
Then an entire generation were urged to drool over colour pictures of what they might like, and exhorted to go out and buy those early green peppers – you had to, you couldn't complete the recipe without them.
To this day I'm an 'open the fridge' sort of cook; one of the joys of living in France is the sheer seasonality of food. The markets are overflowing with fat mussels right now, 2€ a kilo, and the last of the leeks need lifting to make way for the new potatoes – why would one want to eat anything else? Jamie Oliver would have me scurrying down to Sainsbury's to buy out of season Cranberries.
We were the generation that grew up in unheated houses; at least until the coal fire was laid. We untied and saved string from parcels, ironed the Christmas wrapping paper for next year, made our Christmas decorations from strips of coloured paper. I still own a darning mushroom, though it is years since I saw a pair of socks worth darning; perhaps I shall have to start knitting them again, I still remember how, you start by unpicking Dad's old socks, rewind the wool, take four needles….
We didn't take week-end breaks in Calais; a hen night was five friends in the snug, not a plane load of screaming women in Prague; credit cards were unknown. A mortgage was something you envisaged 'one day', after years of assiduous saving with the local building society, with marriage an essential step on the way of proving yourself a steady, reliable and worthy person to the 'manager'.
Someone who owes an obscene amount of money told me the other day how they had bought a £250 pair of shoes not long ago – they needed 'cheering up' they said. Their indebtedness was getting them down.
Another friend told me that their monthly mortgage payments had dropped from £950 to £400 over the past couple of years – 'Crikey' I said, 'you could pay off your mortgage entirely in 7 years at that rate'; they looked at me as though I had grown two heads. 'Why would I want to do that' they replied, 'I can afford a BMW now'. This morning they told me that it had just cost them £96 to fill the tank, and at that rate they 'couldn't afford to drive to the supermarket'.
I blame those early cookery books – can anybody else pin point the moment when aspirations outgrew accumulations?
March 12, 2011 at 13:32




March 11, 2011 at 16:41




March 11, 2011 at 14:41







March 11, 2011 at 16:00










March 11, 2011 at 23:08







March 11, 2011 at 13:23









March 11, 2011 at 13:25










March 12, 2011 at 00:26







March 11, 2011 at 12:43