How to fill in the census form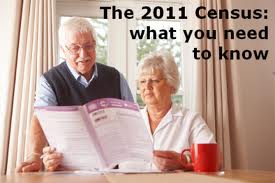 As many of you will have received your census form in the last few days, I thought it might be worthwhile giving you a guide into how to fill in the form.
Some basic guidelines first. It is the law that you have to fill in the form and return it. Or to be more exact, you can not fill it in but you have to have a good excuse. Actually refusing to fill it in is against the law. Just not getting round to it is not against the law. Bear in mind that of the millions of forms sent out in 2001, only 38 people had fines inflicted on them for non-compliance, and only one went to prison for refusing to pay. The fines were unlikely to be the full £1K.
It isn't against the law to supply information that is not totally truthful and accurate, or to answer the questions in a round about way. You can also return the form before March the 27th using a bit of time travelling to accurately fill in the details about any temporary visitors staying at your home. To make sure that the Census people get their data you can fill in the details online and then as a backup fill in the paper form and send it back too, though while you walk to the postbox you probably have fold the form up a couple of times to keep it dry from the rain.
So how do you fill in the census? Here are some tips.
General questions
Q1 – Who lives at the address. Tick as many as possible. For instance it asks about people who are temporarily outside the UK for less than 12 months. If you ever go away on holiday to Spain for a holiday, then you can tick this box. If you are a travelling salesman and occasionally have to stay in hotels, then you could be a person who works from home within the UK.
Q2 – The number of people at the house. Answer as necessary according to Q1
Q3 – Give your names, but not necessarily your birth name. It could be your nick name. For married women, feel free to use your maiden name. Tick the individual questionnaire requested box for each person. Don't worry about filling in the individual forms, you'll send you paper form back before you receive the individual forms so it's the fault of the Census that you didn't receive the individual questionnaires in time.
Q4 – Tick any combination you feel like as you don't know who will actually be staying overnight on the 27th as you will be sending the form back before the 27th.
Q5 – The number of people in Q4.
Q6 – Relationships of persons in the household. Even if you are married, you can say your are partners; it's the modern way of saying husband/wife without being gender specific and not alienating those who aren't married. We are in a progressive society you know. Or you could use the other relationship tickbox for everyone. "Other" doesn't mean exclusive of the other choices, it can mean unspecified.
Q7 – Your house type.
Q8 – Yes, you have a front door unless you live in a hostel/hotel.
Q9 – The number of rooms in your house.
Q10 – The number of bedrooms. Feel free to include rooms which aren't used as bedrooms but could be, e.g. offices or playrooms or even gift wrapping rooms, including those not legally allowed to be bedrooms, eg. lofts and garages. If you feel so inclined, you could include your living room if you fall asleep on your sofa watching TV.
Q11 – Tick you main central heating type, but also tick other central heating as the body heat from the humans in the property will also warm up the house. If you still have incandescent light bulbs then they are adding to the heating of the house too.
Q12 – Even you own the property, tick the rent free choice as you aren't paying any rent.
Q13 – Tick other as you ticked rent free in Q12 unless you really are renting.
Q14 – Include as many cars that you can think of, including other family member's cars which you might use even though you haven't used them or probably will never do.
Personal questions
Repeat for every person who lives at the address.
P1 – This need not be the same name as you entered in Q3.
P2 – Sex, yes please! If you are transgender tick both.
P3 – Date of birth.
P4 – Tick your marriage status, though you could be separated on the 27th if you are married so using time travel tick the box as appropriate. Children will have the never married option.
P5 – If you visit family members for more than 30 non-consecutive days in a year, write down their address. Don't forget that you do this as a family so everyone will fill in the same details.
P6 – Tick as appropriate according to P5.
P7 – Indicate if you are a student or child or neither.
P8 – If a student or child tick as appropriate.
P9 – Tick elsewhere even if it was England, Wales, Scotland, NI or Eire but write down the country in boxes provided.
P10 – Fill in as appropriate if you weren't born in the UK.
P11 – Jump to P12 or P13
P12 – If you arrived in the UK after 27th March 2010, say that you intend to stay for 12 months or more. You might leave before 12 months, but reality is hardly ever the same as what you plan.
P13 – If you have a cold, tick bad because you probably do feel absolutely lousy. If you are in perfect health, tick good because you might have an undiagnosed disease.
P14 – If you are a parent looking after your children, tick the 50 hours/week choice as your help and support of them is related to your own old age. You are older than your children aren't you? If you are a child, you do help your parents out with chores around the house don't you? Things like helping wash up, or switch the channels on the TV because the old duffers can't use the new fangled remotes.
P15 – Tick other and write Human. It is what the UN wants isn't it, the merging of all countries into one? Or write in English, Welsh, Scottish, NI, or British in the boxes provided. Being more imaginative you could write Cornish, or Yorkshire born and bred, or Lancastrian.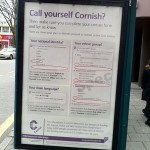 P16 – Tick the other box and write in Human. In a non-racist society it doesn't matter what you ethnicity is and we don't care.
P17 – If you are Welsh indicate your language capability. If you are English and can speak Welsh even if only a few bars of the Welsh national anthem or can say Llanfairpwllgwyngyllgogerychwyrndrobwllllantysiliogogogoch, then indicate this by writing in the area allocated for question 17.
P18 – Tick other – and you get the idea. Yep, write in English in the boxes provided.
P19 – Because you ticked other in P18, tick "very well" if you went to a public school and not at all if you live in Essex.
P20 – Write in Jedi, or write Atheist instead of ticking the no religion option. Do not tick the Christian choice unless you go to church every Sunday. Otherwise leave the choice blank.
P21 – Tick the "Another address" option and write in the address even if it is the same as that on the front of the census form.
P22 – Tick other, and you know what to write in.
P23 – Unless you are in tip top condition, tick the limited a little option. You do run out of breath running only a few yards don't you.
P24 – Jump to P25 or P43
P25 – Tick other.
P26 – Tick as appropriate according to your work. Don't forget that a child will never have worked so answer no for the questions P27-P31
P27 – If you are are unemployed, tick yes.
P28 – Tick yes because it's a hypothetical question.
P29 – Tick as appropriate.
P30 – No matter what you were doing last week just tick other.
P31 – Write the year you last worked.
P32 – Blank
P33 – Tick as appropriate.
P34 – Fill in your job title, be imaginative. You can be as vague as you like and write "Employee" or as specific as you like. It needn't be related to what you actually do. For example, you could be an arse wiper if your boss is one from hell.
P35 – Write in "Work".
P36 – Tick as appropriate.
P37 – Write in "Running a business" as the main activity for your employer or business.
P38 – Write in as appropriate.
P39 – Jump to P40 or P43
P40 – Tick the no fixed place because it's very rare for a company to actually say that you have to work at one place. Most contracts will state that you will work where the company states which could change anytime.
P41 – Tick any method of transport that you have used to get to work, including "other".
P42 – Tick as appropriate.
P43 – Repeat P1 – P42 for other people in the household.
Visitors
This will include cats since they aren't owned by you.
V1 – Write down the cat's name.
V2 – The cat's sex.
V3 – The cat's date of birth, as best as you can guess.
V4 – Write down the same address that is on the front of the census form or that of a neighbour since cats will likely visiting them too.
Now go to the front of the census form and draw a squiggle and date it 27th March 2011. Don't fill in your telephone number.
All this is not against the law. It is however against the spirit of the law. But if you aren't in agreement with the census in the first place you probably don't hold the spirit of the law in much stead.
Update 14/3: Two people who have refused to fill in the form are Janet Street Porter and Alex Deane of Big Brother Watch. Maybe they need these instructions.
woodsy42
March 11, 2011 at 00:40

Richard B
March 11, 2011 at 01:16

Dave H
March 11, 2011 at 07:22

Eleanor
March 11, 2011 at 11:45

Dave H
March 11, 2011 at 13:03

HM Revenue & Customs
March 13, 2011 at 14:50

Fabian the Fabulous
March 11, 2011 at 01:34

Cascadian
March 11, 2011 at 03:06

JuliaM
March 11, 2011 at 05:51

Sres
March 11, 2011 at 14:56

Grumpy Old Man
March 11, 2011 at 06:24

Bill
March 11, 2011 at 07:46

Fidel
March 11, 2011 at 11:36

Livewire
March 11, 2011 at 06:44

Furor Teutonicus
March 11, 2011 at 08:13

Jo
March 11, 2011 at 08:22

JimS
March 11, 2011 at 09:18

SadButMadLad
March 11, 2011 at 09:58

ivan
March 11, 2011 at 11:05

Eleanor
March 11, 2011 at 11:52

ivan
March 11, 2011 at 22:06

ChrisG
March 31, 2011 at 01:38

Ciaran
March 11, 2011 at 09:38

Snakey
March 11, 2011 at 10:24

Joe Public
March 11, 2011 at 19:00

Tacitus
March 11, 2011 at 10:32

SadButMadLad
March 11, 2011 at 11:50

Livewire
March 11, 2011 at 12:14

TimOfEngland
March 11, 2011 at 23:43

funambulist
March 11, 2011 at 11:16

TheBoilingFrog
March 11, 2011 at 12:01

PT Barnum
March 11, 2011 at 13:14

PT Barnum
March 11, 2011 at 13:22

Joe Public
March 11, 2011 at 19:03

Jeremy Poynton
March 11, 2011 at 13:19

Lynn Paterson
March 12, 2011 at 15:21

Jeremy Poynton
March 11, 2011 at 13:21

Joe Public
March 11, 2011 at 18:40

Joe Public
March 11, 2011 at 18:50

Dave H
March 11, 2011 at 19:47

Gloria Smudd
March 11, 2011 at 20:12

Engineer
March 11, 2011 at 19:09

Dave H
March 11, 2011 at 19:46

SadButMadLad
March 11, 2011 at 20:17

Dave H
March 11, 2011 at 20:35

Michael
March 11, 2011 at 20:48

Michael
March 11, 2011 at 20:48

Joe Public
March 11, 2011 at 21:15

Aaaaargh!
March 11, 2011 at 22:24

davidb
March 12, 2011 at 08:23

Joe Public
March 12, 2011 at 10:29

Paul
March 12, 2011 at 16:29

Joe Public
March 12, 2011 at 17:15

Paul
March 12, 2011 at 18:51

Joe Public
March 12, 2011 at 19:15

Paul
March 12, 2011 at 19:34

Joe Public
March 12, 2011 at 22:45

JuliaM
March 13, 2011 at 16:24

Ian (Aberdeen)
March 12, 2011 at 23:55

Tom
March 14, 2011 at 20:42

SadButMadLad
March 14, 2011 at 21:48

Tom
March 15, 2011 at 08:27

SadButMadLad
March 15, 2011 at 09:54

Tom
March 15, 2011 at 13:02