Fings Ain't Wot They Used T'Be!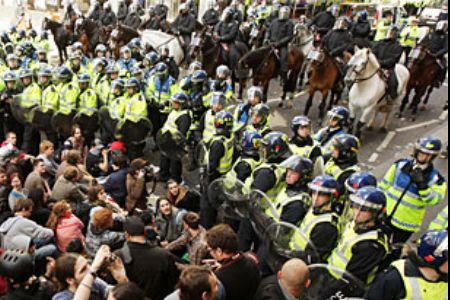 Those with long memories will remember the Grosvenor Square demonstration in 1968. I was walking down Oxford Street, window shopping at the time, an innocent enough occupation. Unfortunately, I had the misfortune to be accompanied by my then husband, a journalist. He insisted on seeing where this excitable crowd that was pushing past us was heading. Ever the news hound.
We were quickly separated, I had not his desire to get to the front of the action; but nonetheless, I ended up spending several more hours than I wanted to in Grosvenor Square, doing my damnedest to stay out of the way of the mounted police sitting astride huge and frightened horses that were none too careful where they put their feet. I had a few bumps and bruises, nowt to write home about, mostly occasioned by the domino effect when someone next to me went flying.
I watched several people being substantively hit around the head for the crime of standing between the police and their quarry – usually someone who had tipped a helmet off a sweaty head and made off with it in the crowd. A helmet in your bedsit beat a traffic cone by at least 70 points. Their immediate neighbours paid a high price for this decorating fad.
We learnt afterwards that the ten foot high, or so they seemed, Marines, on the steps of the American Embassy had been quite prepared to shoot into the crowd had any of the more violent demonstrators managed to gain access to their ground. I didn't doubt it for a moment.
Whilst I made the decision that this was the last demonstration I would ever allow myself to get caught up in, others were made of sterner stuff – or were they?
For demonstrations have come a long way since those heady days of the 60s – they are now the essential political prop; the viability of your cause measured by the number of noughts you manage to persuade the BBC to add to the estimate of those 'attending', and the footage broadcast that night of windows being kicked in.
Since the demonstrations have become so much more violent, you might imagine that the police have become ever more intransigent. Not a bit of it.
Yesterday, the Joint Committee on Human Rights was grilling Metropolitan Police Assistant Commissioner Lynne Owens, on her plans to uphold the Human Rights of those planning to disrupt London demonstrate on behalf of the TUC against the possibility of any public sector employee losing their job. They don't seem to have any objection to private sector employees losing their job so far as I can see.
You might think that the official Parliamentary Committee on Human Rights would have more pressing problems on their hands, what with hundreds of British Citizens still in Ghadaffi's desert Hell Hole. But there they were earnestly grilling the Met on the Human Rights of Demonstrators.
'Would there be Toilet Facilities for those so violent that they had to be contained within a police cordon?' they asked. 'Oh yes', said Ms Owen, we will be bringing in Portaloos for the little darlings, with specially soft toilet paper after last year's complaints, or words to that effect.
'And what if they are thirsty' asked the committee? We've ordered thousands of bottles of mineral water for them, quoth Ms Owen.
I quite expected her to detail plans to send out for MacDonalds, with Vegan option, special arrangements for diabetics, and Halal alternative…..
Instead she turned to her plans to 'Tweet' details of any violence to demonstrators using the official police CO11 Twitter account. Really! Word of mouth is so last year. Apparently this last is in response to the complaint of many students that they didn't know where the action was and thus missed it got caught up in it by mistake – it will be eminently useful to those who unwittingly missed the chance to drop a Fire Extinguisher on Plod's head.
The Civil Rights group 'Liberty' are to deploy 200 legally trained 'observers' and will report back t'Committee Chairman – shades of Ghanaian elections here. No doubt the Liberty website on-line shop will be able to sell you footage for your Youtube account the following day. The TUC have organised 500 coaches to make sure you arrive in comfort, and it has been arranged for a Saturday so that you don't have to use up one of your precious quota of 'sick days'.
There was no mention of disabled access to the riveting sport of kicking in a window, no mention of special facilities for the blind or deaf to receive voicemail messages telling them where to go to watch an unemployed hoodie attacking a policeman, no recreation areas to walk Guide Dogs, nor crèche if you wanted to dump your two year old temporarily, and absolutely no softly padded landing area planned for those who wished to swing from a flag ten foot up the Cenotaph.
Call themselves a Human Right's Committee? I am truly shocked.
Meanwhile, out in the Libyan desert….
March 4, 2011 at 07:58







March 3, 2011 at 23:45







March 4, 2011 at 08:15




March 3, 2011 at 21:03







March 3, 2011 at 21:25







March 3, 2011 at 18:53




March 3, 2011 at 18:40




March 3, 2011 at 17:25







March 3, 2011 at 17:22




March 3, 2011 at 16:34




March 3, 2011 at 15:49










March 3, 2011 at 15:34