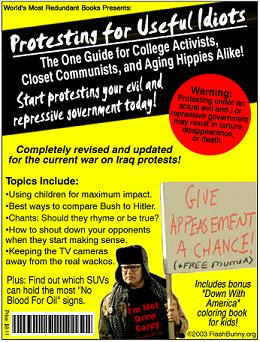 "London School of Useful Idiots" 1
The best description yet of left wing intellectuals who might have lots of intelligence but no common sense, no reason and no morals. They are so keen on supporting their socialist brothers that they will happily ignore their brother's ethical lapses. There are easily blinded by wodges of money being handed to them thinking it's because their brother believes in their cause. Most of the time their non-ethical brother is more interested in the veneer of respectibility and other benefits they get out of the association and just see it as a cost, just like buying a new coat, than they are in joining in some socialist utopia.
More often than not, the person handing the money over is manipulating the idiot for their own purposes. The naive recipient will think they are equals and publicise their mutal arrangements, however only others in their clique will believe it. Everyone else will see that they are being used.
Sometimes the useful idiot totally believes that that the other person is on their side and will do anything that's asked of them in the belief that it is the right thing to do. Other times the idiot will think that they are the main beneficiaries of the arragement as they are lead to believe that they will be well rewarded and have a say in how a country or organisation is run when the other person reaches the top of the political ladder.
In all cases the idiot is the loser when the organisation that used them gets their way they will drop the idiot like a red hot poker. Other times the idiot will be the loser when their arrangement is shown to be the sham that it is.
1 'Useful idiots' was what Stalin called left-wing intellectuals who enthusiastically endorsed Communism.