This is the Mourning of the Age of……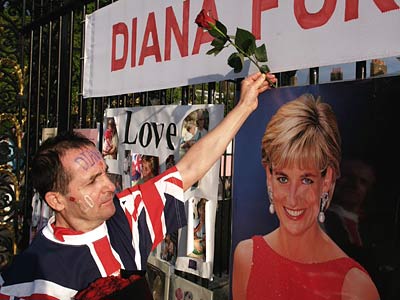 Seven years after the death of Princess Diana sparked a national outpouring of grief in floral format, tightly bundled in the non-biodegradable 'wrap' that florists use, rather than true cellophane, the 'future compost' tributes were still being placed outside Kensington Palace.
It took volunteers three weeks to clear the original mountain of soft toys and messages of affection from those who had never met her. So dramatic were the images of those flowers that they set the British tribe onto a new path of grief tourism, whereby we celebrate the passing of others that we never knew with public offerings of garage flowers and nylon toys from China accompanied by messages, tortuously scribed by those more used to texting – 'U wuz R soldier LOL' – left, not at the grave, but at the last place known to have been frequented by the departed – future anthropologists will have a field day deciphering the meaning behind all this.
Facebook has taken its rightful place centre stage in this virtual grief experiment. The Facebook tribute page is de rigeur for the aspiring corpse. They are now so popular that they even have their own specialised form of Troll, the better to abuse the passing mourners.
No wonder then, that when a 16 year old lovelorn lad committed suicide, his virtual girlfriend turned first to set up a Facebook tribute page, soon graced with some 2,000 members, none of whom had ever met him. No matter, his girlfriend had never actually met him either: theirs was presumably a 'sex-text' relationship. He had, in the way of this modern world, apparently over-imbibed a combination of Vodka and Mephedrone.
The thousands of grief tourists were a tad puzzled though – clutching their ecologically unsound floral offerings and their purple teddy bears, they searched in vain for a suitable lamppost to leave them under. Where did he drink the vodka? Was there a railway bridge that he had spray painted with his signature? Surely he had sniffed glue in some shopping mall? His girlfriend was equally puzzled.
By this time the town's garages were bereft of 10 day old tulips; there was not a 'My little Pony' with 'attached hearts' to be had anywhere. Wholesalers were shouting down telephone lines to mainland China to reorder supplies.
Somebody called the police – as you do when you can't find the can opener/the cats been sick/you don't know which Donner Kebab shop is open on a Bank Holiday/you are a virtual mourner in search of a virtual shrine to lay your offering for a virtual friend.
A curious tale unfolded. The corpse was as virtual as the virtual friendships.
Jaydon Rothwell, virtual corpse, had never existed except in the minds of two Facebook aficionados. They had created his identity to ensnare a friend of theirs into a virtual relationship, when that had failed, they had 'killed him off', his unwitting grieving virtual girlfriend had created the Facebook tribute page, and thousands of grief tourists had just tagged along for the ride…..
Police Inspector Ilyas Mohmed said they were considering whether to take any action against the girls. "We have worked extensively on this inquiry and this has led to a lot of officers' time being wasted. We find these actions to be unacceptable and this kind of prank will not be tolerated. We will take action against anyone involved in this sort of behaviour in future."
Any suggestions as to what future Mourn-ographers might be charged with?
Truly a tale of our times.
Bizarre.
March 2, 2011 at 13:10




March 2, 2011 at 10:54




March 2, 2011 at 08:24




March 2, 2011 at 07:25




March 1, 2011 at 23:07







March 1, 2011 at 22:49







March 1, 2011 at 22:29










March 2, 2011 at 11:04




March 1, 2011 at 21:20










March 1, 2011 at 20:07









March 1, 2011 at 17:54




March 1, 2011 at 17:46




March 1, 2011 at 17:44