Where are they now – Vera Baird?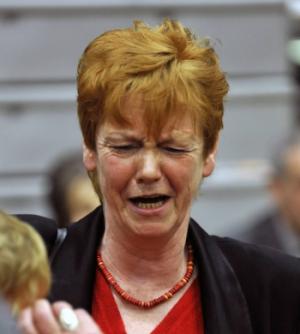 The lofty Vera is currently splashing round a swimming pool in Kampala in between discussing Ugandan matters; a welcome change from trying to hustle work as a humble 'door tenant' or 'Barmaid' at the prestigious Tooks chambers. She used to be a full board member of Mansfield's prestigious chamber. She used to be Solicitor–General. Then again she used to be the MP for Redcar. However, since Redcar decided that it didn't want to be represented by the Redhead Vera, and picked Ian Swales as its MP, its fortunes have been reversed. Last night he oversaw a deal with the Thai company Sahaviriya Industries which will see the furnaces relit at the Corus steelworks.
The people of Redcar could not forgive Vera for her handling of Corus's difficulties, which ultimately ended with a lone bugler playing the Last Post over the dying embers of the furnace whilst Vera pontificated on the Jeremy Vine show about how 'Labour had done its best'. She didn't have the courage to stand alongside the workers as they said good-bye to their historic – and apparently 'outdated' employment.
Vera said: "It is time to move our labour market assumptions on into the modern era." whilst calling for flexible working to become the norm and an end to the outdated assumption that the 40/40/40 model – where we work forty plus hours per week, for forty plus weeks, over forty plus years.
Ian says, "The cast-iron backbone of our area is in place again. This means more jobs and a better economy – it is a huge boost for everyone locally.
"It was clear when I was elected to serve the people of Redcar last May that finding a way to reopen the mothballed steelworks was a key priority for the area.
"This was a tremendous responsibility, and having campaigned tirelessly with others to find a way forward it is fantastic to finally see the deal done.
"As Redcar's MP I have used my time in Parliament to get Ministers behind the deal and they have given strong support when needed. Since being elected I have been pushing in any way I can to keep the deal moving.
"I am immensely proud that everyone involved has shown a relentless determination to reopen the plant. I want to pay tribute to SSI, Tata Steel, the Coalition Government, steelworkers, unions and local people for working together to put Redcar back on the map as one of the leading producers of steel in the world."
What a difference an election makes!
February 25, 2011 at 20:59




February 25, 2011 at 15:54




February 25, 2011 at 12:50







February 25, 2011 at 14:24




February 25, 2011 at 12:40







February 25, 2011 at 17:47







February 25, 2011 at 11:42







February 25, 2011 at 10:45




February 25, 2011 at 10:43