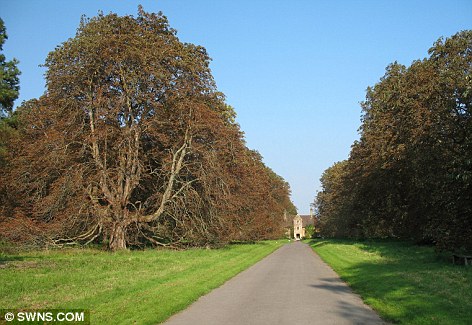 A whole avenue of trees have been destroyed. They've been chopped down and burnt. And the culprit who got rid of them? The National Trust. The organisation that is supposed to be saving the British heritage has killed 68 magnificent specimens of tree-hood that lined the drive to a stately house in Ilminster, Somerset.
You have to let them off though because the trees were diseased and dying because they had been infected with Bleeding Canker. So the disaster was due to natural causes rather than an organisation taking the law into their own hands.
However, is it really a disaster?
The trees were 93 years old which is pretty old, but they could have lived a lot longer. 350 years is the average lifetime of a tree in a natural environment but it can be as little as 75 years in an urban environment.
But you can plant new trees and in time they will be magnificent specimens again. So you have to wait another 100 yrs but so what. Why does it have to look good now. What about when they were first planted, were the owners of the stately home upset that they didn't get to see the magnficent trees in their lifetime?
Why are we so fixated on having things look just so straight away?
Popping off at a tangent into planning for a second; councils sometimes dictate that roofs have to have weathered slates so that a new property blends in with existing houses. But given ten years even new roofs will weather and start to look like existing roofs. And it doesn't stop existing properties cleaning their roofs or having them "turned over".
What this does show is an attitude to not cutting down trees "because they are magnficient" and concentrating more on looks rather than practicalities. There are many situations where tree preservation orders stop trees being chopped down or pollarded or crowned where the trees were not originally desgined to grow so big. So sometimes you have properties with no light or you have a view spoilt and blocked by trees.
In the past no one would have bothered if a tree was chopped down as new ones would grow in their place (or they were all being chopped down for a greater good of keeping the mines open for WWII). Now we have every Tom Dick and Harriet sticking their oar in and saying that a couple of birds are losing their nest if a tree has even a single branch chopped off.
SBML