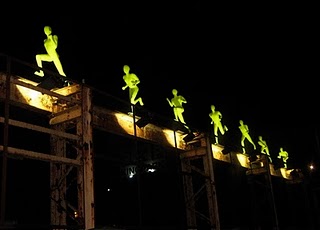 In some sectors of Liverpool – OK, Scotland Road – the tradition of ordering a 'chinky' and then legging it without paying, is so deeply engrained that one restaurant which sought to curb this, for them, unprofitable activity, instigated payment in advance.
They still had to keep the doors of their restaurant locked – the habit of 'legging it' was so automatic to their customers that some of them were paying and then taking off without eating…….
How appropriate then, that the sculptor Faith Bebbington has chosen to immortalise seven fleeing figures for the 'Liverpool Discovers' exhibition of public art which opened yesterday.
Nice sense of humour Faith……
February 15, 2011 at 19:06







February 15, 2011 at 15:31







February 15, 2011 at 14:35







February 15, 2011 at 14:10










February 15, 2011 at 13:55




February 15, 2011 at 13:14







February 15, 2011 at 12:54




February 15, 2011 at 12:25







February 15, 2011 at 11:14




February 15, 2011 at 09:45