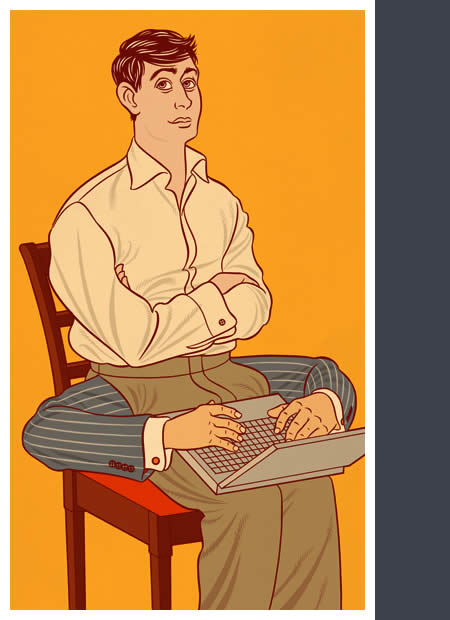 Illustration from the incomparable Nick Dewar RIP February 2010.
We have imported many trends from America; none so misunderstood as the 'Free Speech' trumps all other rights. I would hazard a guess that 'free speech' is probably the most quoted phrase in the blogosphere.
'Speech' is the power of oral communication. Oral. By mouth. Yet it is freely translated as the right to imprint the Blogosphere with a permanent written record of your thoughts.
The main stream media are terrified of the Blogosphere, they see their advertisers leaking away by the day, and the only way they can keep up their viewing figures is by implanting their 'news' with words that are commonly searched for on-line. Wikileaks. Angelina Jolie. Madeleine McCann. Cheryl Cole. Gordon Brown. Banker's Bonus. Newsrooms are driven by the need to find stories to fit round these keywords. Editors no longer look at the world news and make a professional judgement as to the order of the news. They peer at keywords. Consult SEO experts.
Thus they have found themselves consumed, the past few days, chasing stories concerning the murder of Joanna Yeates. Just Joanna Yeates. The 'keyword' Joanna Yeates. Not the other two dozen unsolved murders in the same area.
Having selected a suitable corpse – not quite the pulling power of a dead Princess, nor the winsomeness of a missing Madeleine, but blonde and young, (looking promising), they still need a reason to insert those other SEO magic words.
In order of importance, these appear to be 'paedophile', 'religious', 'weird', 'gay', pornography, anything French related, private education, and the highly suspect Lib-Dems.
In the rush for 'keyword Bingo', the Daily Mail achieved high scores.
Paedophilia:
A teacher who used to live in Joanna Yeates flat was jailed for sexually abusing a pupil there. Stephen Johnson taught French at Clifton College where murder suspect Jefferies also worked.
Religion:
Mr Jefferies was four years ago appointed the chairman of the Bath and Avon Prayer Book Society, which promotes the continued use of the 1662 Book of Common Prayer.
Weird:
So liberally sprinkled around that it is impossible to isolate specific uses.
Gay:
'He was a very private individual. He was notorious for his odd hairstyle, it was often poetically long, and definitely had a blue tinge.

'Mr Jefferies was also famous for his utter dislike of sports. At boarding schools everyone has to chip in and teachers would often referee rugby or football matches, but not him.

'Mr Jefferies was a bachelor, he never spoke about girls and I never saw him with any, but likewise there was no suggestion he was homosexual as people have suggested.' ('People' – including the Daily Mail!)
Pornography:
Ticked that one with earlier reference to Stephen Johnson, who used to show pornography to the boys at the college……
French related:
Got that one with the earlier gratuitous reference to Stephen Johnson – French teacher natch.
Private Education:
Clifton College…can't believe our luck. This SEO business is a doddle.
Lib-Dems:
Line them up on the bar lads, I'm there. Got it.
'Campaigning for the Liberal Democrats'.
Does it matter if the Daily Mail – why single them out? – and every other national newspaper – is playing an incautious game of 'round the rules of contempt of Court we go'?
Yes, it does.
Ironically, if the police have sufficient evidence to charge Mr Jefferies (currently released on bail with no charges) with any crime, he will then enjoy greater protection from the rush to sully his reputation by innuendo and association. Whilst completely innocent in legal terms he is at the mercy of every SEO expert in every newspaper office.
Following their example, the on-line world of dubious forums has burst into life once more. The ghouls who delight in tormenting the families of the deceased, the missing, the raped, and the sexually exploited are competing with each other to come up with the most outlandish theories; half digested innuendo from the newspaper files is rehashed as fact. Photographs photoshopped.
The armchair Agatha Christie's who were growing bored with discussing the finer details of Hollie Greig's alleged sexual history, or debating their unshakeable belief that the McCann's murdered Madeleine, or whether Stuart Lubbock was drugged before or after he was anally raped, or Lee Balkwell really died in a cement mixer – have found a new lease of life.
They have the family of Joanna Yeates to torment. Just one of two dozen people murdered in the area, but the one selected by the main stream media for their infotainment.
And all the innuendo, all the gossip, all the revolting suggestions, all the 'facts' and the 'troof' will be left on-line for future generations to discover when they Google Chris Jefferies name.
Even if he turns out to be totally innocent.
The right to 'Free Speech' has become the right for every nonentity to leave a written record of their every obscene thought for all eternity. They can no longer wait for a man to be found guilty, this is the age of instant gratification.
And premature articulation of lurid slurs.
January 4, 2011 at 13:46







January 3, 2011 at 20:27




January 3, 2011 at 20:19




January 3, 2011 at 17:47







January 3, 2011 at 14:58







January 3, 2011 at 16:17




January 3, 2011 at 13:37







January 3, 2011 at 12:07







January 3, 2011 at 11:34







January 3, 2011 at 10:36




January 3, 2011 at 10:31







January 3, 2011 at 09:53




January 3, 2011 at 06:39