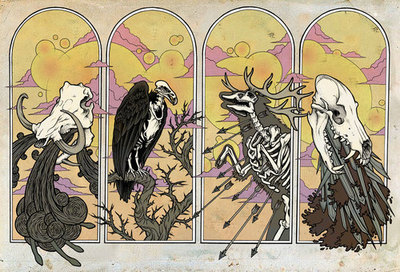 I understand that in America there are groups of people who dedicate much of their lives to making ready for a forthcoming Apocalypse, nuclear or otherwise. I believe they are called "Survivalists". From what little I have seen of such people they are portrayed as paranoid inbred swamp dwellers, dressed in fatigues. Whether this portrayal is accurate or not, I know not.
To the Dark Age and Medieval mind, and indeed well into the "Early Modern" period,[1] the Apocalypse was a looming concern for two reasons. First, simple religious fervour and literalism. But second, because "King Death" was always near at hand. War, pestilence, plague and famine were all constantly present. Society could break up at any time. Any minor illness or child birth was potentially fatal. Any serious injury or illness almost inevitably so. In the absence of anything more than the most rudimentary medicine or science, life was a game of chance in which "King Death" held all the aces.
It is rather trite to point out that as science has advanced, faith and fear of imminent arrival of the afterlife or the Last of Days has rather waned and "we" tend to think of ourselves as all powerful and secure from disaster and disease. But as the recent cold weather has illustrated, we may not be quite so far from a spot of disaster as some may assume. A few weeks of winter weather has seen the roads in the United Kingdom reduced to a shambles at times, fears for supplies of food, and major disruption to water supplies, not least in Northern Ireland where thousands have been without water for weeks and one major hospital came within hours of declaring a major emergency. And it was not the only time an Act of God caused a rumpus last year. In Iceland, a volcano did what volcanoes are supposed to do; it burped. A relatively small deposit of ash brought air travel across Europe to a close, and I remember very well, for example, reports that imports of vegetables which we have become accustomed to consuming all the year round were in danger of drying up.
Sometimes, whilst driving on the motorway at night, I have wondered at the incredible complexity of the modern world as I observe the logistics going on. Lorries bringing supplies from the ports to the distribution hubs. More lorries taking food from the hubs to the supermarkets. Tankers taking fuel for the lorries to the depots. Lorries shipping goods from Scotland to London and back. Freight trains running. An impossibly endless and complex dance.
The sheer scale of the modern economy brings great benefits but like some incomprehensibly complex machine, the interdependence of each of myriad of component parts means that a tiny spanner in the wrong place could bring the whole to a grinding halt. And while the internet is a great boon, so much of our lives are now dependent on the hidden transfer of information in electronic form. For this reason both simple technical breakdown and cyber terrorism are real and serious threats. To take an example, what would happen if banks and bank machines were disabled for a week? How would people buy food or fuel? How would they behave?
Leaving aside Act of God, Act of Terrorist and just accident, it seems pretty clear that there is going to be a fair degree of disruption by strikes in the face of government cuts. A summer, or more likely autumn and winter of discontent looms.
I am not an advocate of "Survivalism", and I am not suggesting building nuclear bunkers in the back garden. It just seems to me that a degree of prudent preparation would be no bad thing. To back this up, I have a relative who is a senior officer in one of the emergency services. One of his jobs has been "emergency planning." Suffice to say because of the information he has seen he keeps a reasonable supply of bottled water and tinned food in his garage. I think he refreshes the water every few weeks.
I think I shall lay in something of the same. I shall also dust off my old camping gear and make sure I have a camping stove with bottled gas, candles and matches, torches and a transistor radio with batteries. Nothing over the top, just prudent.
Gordon Brown once claimed he had abolished boom and bust. It was a stupid, arrogant statement, because the history of the human condition is constant. As a Son of the Manse one would expect him to have known better. Does not the Bible contain a parable of Pharaoh's dream of the seven fat cows and seven thin cows?[2] It is there for a reason, and one which can quite properly be interpreted in entirely non "religious" and practical grounds. Because, in modern parlance, "stuff" happens. It always has, and it always will. It pays to be a little ahead of the game. Sooner, or later, "stuff" will happen again.
Happy New Year.
Gildas the Monk
---
[1] Say 1550 – 1700
[2] Genesis 41
January 3, 2011 at 18:17




January 3, 2011 at 01:49







January 3, 2011 at 01:44




January 2, 2011 at 23:22




January 2, 2011 at 23:08




January 2, 2011 at 21:38







January 2, 2011 at 18:17




January 2, 2011 at 17:09










January 2, 2011 at 16:47







January 2, 2011 at 14:45







January 2, 2011 at 12:38







January 2, 2011 at 11:49