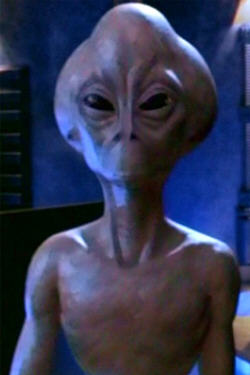 NASA has just announced that they have found some alien life forms. But before you get too excited about little green men, this is actually about little green bacteria. Well maybe not green as they are to small to have any colour.
The reason NASA says they're alien is because they love Arsenic which to all other lifeforms on Earth is a extremely toxic. So either these bugs have come from space and are colonising our planet or they have evolved to cope with arsenic in their environment. Of these two theories I know which one is more believable.
The reasoning behind the theory about why the bacteria can handle arsenic is because it has similar chemical reactions as Phosphorus. It tends to interfere in chemical reactions involving phosphorus which is where the toxicity comes from. However just like 99% of snakes can cope with their own poison, these bacteria have evolved to cope with arsenic which sometimes occurs in high concentrations in their environment.
So life is not just carbon based with nitrogen, oxygen, hydrogen and sulfer thrown into the mix.It could be any mix of chemicals. So there could be life on Titan or Enceladus or even Mars. It's just that we might not recognise it at first because we have fixated ideas about what life is.
So what is life? If a bacteria here on Earth has evolved to cope with chemicals that aren't used by the rest of the lifeforms on the planet, then what could happen elsewhere. Elsewhere being on other planets or even other planetary systems or even in other galaxies.
Because we have found something that uses arsenic in it's metabolism whats to say that there aren't other forms of life that use some exotic chemistry in their metabolism which to us is posionous. Or even not recognised as life. The findings show that it's likely that just about anywhere there will be some form of life, though most will probably bacteria-like.
Now for some real alien life forms.
This was a bit of a change from the normal Anna Raccoon articles. A bit more sciency. Let me know what you think about such articles.
SBML
December 11, 2010 at 11:35







December 6, 2010 at 18:58







December 6, 2010 at 19:15




December 6, 2010 at 16:39




December 5, 2010 at 23:37




December 5, 2010 at 19:59







December 5, 2010 at 20:40




December 5, 2010 at 12:09







December 5, 2010 at 01:30




December 4, 2010 at 21:38




December 4, 2010 at 19:55




December 4, 2010 at 18:49




December 4, 2010 at 17:17