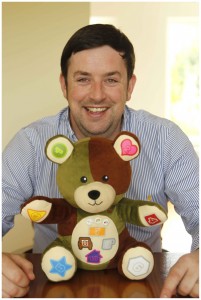 Forget the Celtic Tiger, just in time for Christmas we have Bábógbaby, the Irish Begging Bear.
Invented by Irish entrepeneur, Adrain Devane, the toy is set to be a hit amongst English parents anxious to convey to their Irish neighbours their true views on the latest bail-out of Irish Banks in language they can understand.
The teddy bear will teach you 33 words in Irish, 'No' being particularly popular, with bright buttons to press, and in response the teddy speaks the friendly-sounding Irish words for basic numbers. Like '£7 billion', and 'now'?
Readers who wish to communicate with the interactive bear without parting with €35.99 in addition to the £300 per household our government have already committed us to, can do so free of charge on this link.
http://www.babogbaby.com/index.php/interactive/
Anyone who manages to teach it to say 'Stand on your own two feet' will receive a bonus prize this month.