Can life get any worse for the Irish?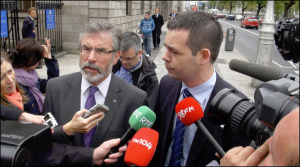 Indeed it can! Pearse Doherty, Gerry Adams' 'made man', otherwise known as the Sinn Féin candidate in the Donegal South West By-election is leading by a stunning majority.
Gerry Adams and Martin McGuiness were this afternoon watching the count closely at the Finn Valley Centre in Stranolar, which must have cheered the counters no end as they commenced their second count.
Sinn Féin's share of the vote was increased by 10% in the first 30 boxes to be counted.
Just the very thing to restore confidence in the Irish banking system – the political wing of the IRA cutting the government's Dáil majority to just two votes….
Sinn Féin's Pearse Doherty has said it was clear already that the platform and policies put forward by Fianna Fáil have now been rejected.
Mr Doherty said the message for An Taoiseach Brian Cowen from the people of Donegal South West was 'get out of office'.
Since that message was delivered by the political wing of the IRA…
The counters are now settling down to a third recount, the quota of 17,213 has still not been exceeded. Pearse Doherty now has 13,736 votes.
The Donegal area has a significant number of native Irish speakers and is close to the Louth area in which Gerry Adams canvassed alongside his suspected paedophile brother Liam Adams. Sinn Féin claims that Liam Adams played a short, minor role in the party are strongly challenged by many republicans.
One said: "Liam was active in Sinn Féin in Dundalk for at least seven years. He was synonymous with the party's name here. He was seen as an asset to Sinn Féin and the community.
A delightful bunch.