Curriculum for a Spartan Society?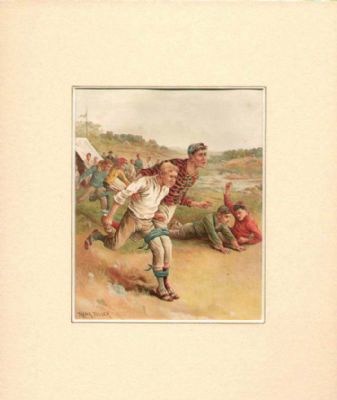 Education secretary Michael Gove has announced cuts to government sending on school sports
In "The Telegraph" Miss Leah Ward, a student at a Macclesfield College wrote a piece about it HERE from which I extract the following:
"The day of the spending cuts was a tense day for many of us. Nobody knew quite what was going to happen. When the cuts were announced there was mayhem at Macclesfield School Sport Partnership as they had cut our funding. No one could believe it….
The last Government had said they wanted all children to be doing 5 hours physical exercise a week. Before the [School Sports Partnership], some schools were doing less than half an hour of exercise a week and only 25 per cent of 5 -16 year-olds were taking part in 2 hours a week of physical activity, in and out of school.
Now you see at least 2 hours of timetabled Physical Education each week with out of school activities going on all the time, and 67 per cent of young people doing 3 hours a week of PE and School Sport."
Miss Ward then goes on to argue, correctly, that "Government" (of all colours) relentlessly bangs on about the virtues of being fit and the dangers of alcohol, tobacco and of obesity. She might have added that this is a bit hypocritical, since "Government" makes an awful lot of money out of smokers and drinkers, and with a looming pensions crisis has a vested interest in making sure as many of us shuttle off the moral coil A.S.A.P. However, well done to Miss Ward for cogently expressing her views.
Both Michael Gove and Shadow Education Secretary Andy Burnham appeared upon the radio this morning by banging on about sport in schools and cuts. As usual, it was difficult to decipher any real information save that a lot of money has been spent and now there is less money to spend, which we all knew. It did seem to me however that assuming that a lot of money has been spent (Mr Burnham kept going on about £2.2. billion) we have not got a lot of bang for our buck. 3 hours a week of PE?
That much! I grumbled to myself about how PE lessons at school were always rubbish anyway, and how when I was a boy we got about three hours exercise a day with mass self organised games of football.
As it happened, later I enjoyed a light lunch of Beef Wellington, welsh rarebit and stilton all washed down with a couple of pints of port with my pal Gildas the Monk at the Nun and Firkin. After lunch we reclined in armchairs by the fire sipping our metaxas whilst Gildas was holding forth with observations on the education system. So pithy that very I soon fell into a slumber. Wherein I had a strange dream…
*********************************************************************
The year was 2013. In a shock election result the National Cenobite Party swept to power with a 300 seat majority.
Its enigmatic leader Gildas the Monk and his second in command Sister Eva Longoria-Peron (whom some say was the true "Power Behind the Throne") were cheered into Downing Street by adoring crowds.
What followed was as brutal as it was swift. Money grasping and incompetent bankers: assets seized. Profligate and corrupt politicians: surcharged with the cost of their idiocy and imprisoned. Simon Cowell: in the Tower. Speed cameras: cut down. Pubs: de-regularised and left alone. Quangos: axed. Nasty little teenage hoodies: put in the stocks.
Education received special attention.
First, by law, children up to the age of 16 had to be referred to as "children". Not "kids" (those being the spawn of goats) or "young learners", or "customers." After 16 they were allowed to be called young men and women and, in appropriate circumstances, students.
Gildas argued that a decent breakfast is essential for all children and those poor children who didn't get it were being adversely affected in behaviour and concentration.
He thus ordered that all State Schools start their day with a decent breakfast of bacon and eggs, porridge and toast for their pupils at 8.30, before an Assembly at which the children were instructed on their obligations on a topic such as manners or cleanliness and respect for their elders, and an inspection for tidiness and cleanliness took place.
Allowances and adjustments in respect of food were made for the Islamic and Jewish faiths, but Islamic only faith schools were closed because they encouraged segregation and discourage integration. This proved quite controversial, and did cause some slight unrest.
At lunch time a similar policy was adopted. Children were offered a limited choice of basic decent meals. Crisps and Pepsi et cetera were banned. In came the old cabbage, carrots, shepherds' pie and indeed chips. Being involved in the preparation or the possession of quiche was made a criminal offence.
Gildas argued that children are eating machines, but that provided they eat at least half decent food and are allowed burn it off, they will all look like racing snakes. Jamie Oliver was appointed School Meal Commissar with a team of agents with powers of inspection and arrest at his disposal. Head teachers or councillors found responsible for serving food of insufficient plain and yet wholesome quality were summarily arrested and sent to specially constructed prison ships on the Medway, the Humber and the Mersey. There was no right of appeal.
Anyone found selling junk food to school children between the hours of 8.00 am and 5.00 pm was liable to the same penalty. The agent's, or "Oliver's Army" as they became known, were highly effective. Sales of Ritalin declined.
The curriculum was ripped up and entirely re-written.
At Primary School mornings were dedicated to reading and writing (with proper spelling and grammar) and mathematics with an emphasis on the four basics: addition, subtraction long division and multiplication. There were also one or two sessions per week on British history: Kings, Queens, battles and dates. In these lessons teachers were banned from setting children damn fool open ended questions like "What it might feel like to be a peasant?"[1]
No child was allowed to leave Primary School without having basic literacy and numeracy skills. If this carried on for too long (over the age of 14) children were give a choice; if they were willing but had genuine learning difficulties, care was lavished on them in special regional focus centres. But if they were being lazy-arses that "couldn't be bovvered" or displayed a general poor attitude they were released from the State System with immediate effect. In all senses. They were free to work but were never again permitted benefits of any kind. Ever.
However, once children reach the prescribed basic standard they were streamed and encouraged to progress as far as possible in each subject. Private study and reading time were encouraged and rewarded. Prizes were given for excellence in study, timekeeping, appearance, effort and result in the form of stars or badges or framed commendations – not money or gift tokens.
In the afternoons the children's principle activity was sport. Lots of it. Football, netball, running, swimming and rounders – anything and everything. Competitive and team sports were encouraged. Gildas expressed his understanding that some children don't like sport because they physically weak or fat and just don't enjoy it. Others are bookish. That was OK, but a heavy investment was made to extend the range of sports to assist them find something they did enjoy. ALL children were encouraged to participate in whatever they enjoy and at whatever standard was appropriate to them. Regional centres for alternative sports – aikido, judo, mountain climbing, cycling, free running and dance – were immediately established and transport provided.
However, children who failed to make an effort could also be expelled from the system with the Draconian consequences set out above.
In addition at least three afternoons a week children received one hour lessons in home economics. In this they learned how to cook basic good meals from fresh materials, that junk food is poison, how to balance a budget for a household for a week and how to sew.
Homework was banned for Primary School children. However, after school clubs for sports and academic or cerebral activities such as chess, spelling, maths, reading singing and computer studies were promoted.
In Secondary School the old O level system and standard was re-established. Teachers unable or unwilling to teach to that standard were sacked on the spot. Course work was largely abandoned except as a module of the history and geography O-levels, where a research project was allowed.
A new introduction was a Lifetime Vision module. Children were expected to aim for a career which did not involve being on X Factor. Each school was given a dedicated team of mentors whose sole function was to establish a culture of expectation of success in every child. Children of all backgrounds were expected to establish high life time ideals and career goals and aim for them.
Children from poor backgrounds but displaying potential were assigned special extra tuition. If a child's home circumstances were found to be interfering with their progress (such as where the child was acting as carer for a parent of parents, as was sadly not uncommon) specially appointed Local Commissioners stepped in with aid to relieve the child's burden. If parents were just getting in the way generally, they were given a written warning. Parents who then violated it were sent to specially constructed regional Prison ships on the Medway, the Humber and the Mersey. There was no right of appeal.
Teachers were encouraged to teach and not hit targets. Children were encouraged to learn, but not to take on too many subjects and cram. Instead the aim was to master a core bundle of subjects to a good standard and balance their academic and physical skills. Once again, the afternoons were devoted to sports on the same basis as above.
Children were not allowed to take the newly re-established O-Levels early, except for mathematics. Gildas declared that he did not like hot-housing. It had detrimental effects in the long term.
However, in addition by 16 all children had to pass a Financial Comprehension Test at which they had to show a basic understanding of matters such as debt, interest rates, a balanced budget, and financial instruments as such as a mortgage.
From 16 onwards A levels of a proper standard were re-introduced (with the supplemental S or "Special Level") and children were allowed to specialise in arts or maths, ditching the subjects they disliked. The International "bit-of-this-and-bit-of- that" Baccalaureate system was declared illegal and its promoters who did not recant were hunted down, arrested and imprisoned.
Those of a less sporting and more academic bias were allowed to drop a couple of afternoons a week.
On the other hand those who genuinely disliked the academic experience and did not wish to progress to A levels were given a range of vocational training, paid for by the state for the next two years with additional sporting activities.
Gildas banned sex education. He explained that this is not because he is a prude, but because it had not produced any significant benefit and wasted resources. He added that teaching 8 year olds to put condoms on bananas was faintly obnoxious and a desecration of childhood, and that the time the little bastards were 14 they knew more about it than him anyway.
Discipline was restored. At all stages children were to address staff as Sir, Mrs, Miss, or at a pinch, Ms. All children had to wear school uniform and to an acceptable standard, with appropriate relaxation in the sixth form. Poor families received help with the cost, and anyone attempting to profiteer from the law was put in the stocks and pelted with cabbage.
Abuse of teachers, chatting back, laziness and any hint of disruption, insolence, drug use or violence was no longer tolerated. Head teachers were given extensive freedom to exclude troublesome children for whatever period they wish. Any child excluded three times or for a total of more than three months was ejected from the system with the same consequences as above.
Any parent who improperly interfered with the teacher's job and right to impose discipline was arrested and sent to specially constructed prison ships on the Medway, the Humber and the Mersey. There was no right of appeal.
********************************************************************
After I awoke in a cold sweat I did recount the extraordinary dream, or perhaps nightmare, to Gildas, and asked for his views. He merely smiled.
"Ah!" he said "So you were listening after all!"
November 26, 2010 at 19:38




November 25, 2010 at 22:59




November 25, 2010 at 20:21







November 25, 2010 at 17:40




November 25, 2010 at 16:44




November 25, 2010 at 12:43










November 25, 2010 at 12:35




November 25, 2010 at 12:20




November 25, 2010 at 11:57







November 25, 2010 at 09:37










November 25, 2010 at 09:43