Coming Soon to an Airport Near You!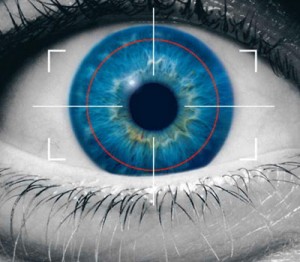 News from Manchester Airport that from this month they will be testing a new "Eye Scanner", which will read our irises and help to "combat the war against terror". This comes only months after the airport introduced the first full body scanners, which would…er… "combat the war against terror". You may remember these things combat terror by taking very tasteful pictures of your naked body. Though the official line is that nobody is recognisable, and anyway the images can only be viewed by an official in another room who cannot see the actual person. Oh yes, and the images taken are immediately destroyed, and cannot be saved or printed out. And if that's good enough for the government, it's good enough for us, right?
So how is it going in the States? After all, they get all these security gizmos before we do.
Across the pond, where paranoia is king, the citizens are leaping up and down like fleas on a hotplate, and gibbering madly. The objects of their frenzy are the full body scanners run by the Transportation Security Administration (TSA), part of the Department of Homeland Security (DHS). The head of this body is one Janet Napolitano, otherwise known as Big Sister.
These inventions of the devil take holiday snaps as you pass through them, without bothering to record your clothing or underwear. The almost-x-ray pictures will show up your wooden leg, though. And your prosthetic breast… and the size of your penis…and your Prince Albert… If any of these show up on camera, you may be "invited" to strip, so they can see for themselves. Those breast-pads may be packed with Semtex. That artificial hip could be an explosive device.
If you are a female who is menstruating, you will be posing with your sanitary towel or tampon plainly showing up on film. Won't that be nice? You may even be asked to submit it for inspection. Can't be too careful…
All this is done with a fine lack of discrimination. That is to say, for every man, woman and child.
The images themselves are not kept. Heavens no! Why, that would be intrusive. No, after having checked that the traveller is not packing more armaments than the Terminator, the images are destroyed. Not saved to hard disc. Gone in a puff of electrons.
Except when they're not. This month, the US Marshall's Service was forced to admit that the Orlando branch had accidentally saved and stored over 35,000 images. Though they were unable to explain why. (To be fair, this occurred at a court-house and not an airport.) This came after months of the TSA claiming that the images couldn't be saved.
Do American travellers have a choice? Of course! America is the land of the free. If they object to the body-scan, they have two alternatives, the first being TSA's "pat-down". This is a government-approved groping by a security person with grubby though rubber-gloved fingers. And not a gentle groping either, by all accounts. After all, you may have inserted a live grenade where the sun doesn't shine. Have to be vigilant, you know.
Every man, woman and child.
But there is always the third option. Ms Napolitano, who views internal US flights as being a priviledge granted by the government to ordinary mortals, has been quoted as saying that if travellers had a problem with the way things were, they could always "not fly".
Or in other words, "F*ck off !"
All very sad… because it proves the terrorists have won. For though their young men may very well want to kill a few of us, the real aim of terrorists is to get their way by instilling terror. And today, America is full of terror.
And we're next.
November 20, 2010 at 23:55




November 20, 2010 at 23:19




November 20, 2010 at 17:22







November 21, 2010 at 08:49




November 20, 2010 at 17:20







November 20, 2010 at 14:58







November 20, 2010 at 17:33




November 20, 2010 at 14:01







November 20, 2010 at 12:24







November 20, 2010 at 09:13