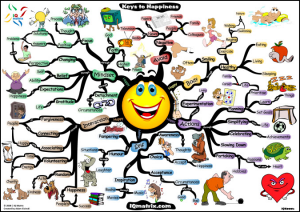 So the goverment wants to find out how happy the country is via statistics. Dry statistics will never show the state of happiness of the country. It it is too ephemeral.
Happiness is also very personal. I could feel happy because I've finished a jig saw puzzle. I could be happy because my child said "daddy" for the first time. It has nothing to do with the state of the nation.
But happiness can be national too.
BBC Breakfast did a survey* of the state of happinesss and the came up with a figure of 5.39 (or something very close to it). The same day by coincidence the Royal Wedding was announced. So the next day Breakfast did the same survey. This time the figure was something like 7.93.
If something as simple as announcing some good news makes people happy, and it can change so much in 24 hours, there is no way statistics can show the happiness of the nation. Not unless we are asked to use a hand held device every ten minutes to indicate how we feel.
* Survey was to text in a number between 1 and 10, with 1o being very happy. Over 10,000 texts received on both days, with the final number being taken from a representative sample.



November 21, 2010 at 20:48







November 21, 2010 at 14:44







November 26, 2010 at 07:28







November 21, 2010 at 12:40




November 21, 2010 at 11:39







November 21, 2010 at 11:19










November 21, 2010 at 10:55







November 21, 2010 at 10:49







November 21, 2010 at 10:30







November 21, 2010 at 10:12







November 21, 2010 at 09:32










November 21, 2010 at 09:32