Sexual Politics | Storm in a C cup.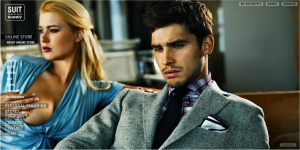 The massed nipples at Mumsnet are rigid with indignation, Twitoris ablaze with passion. The 'beyondretrograde' (Oh the irony!) blog has thrown up a genuine old fashioned feminist scandal.
A woman's nipple was shown in public – quelle horreur! A generation of women who think nothing of walking round in the depth of winter with their breasts cantilevered with engineering precision and exposed to the elements, find themselves offended by the sight of a nipple.
Had the nipple had a winsome rug-rat clamped firmly to it, no harm would have been done, we are all grown ups, we understand these things. Had the owner of the offending nipple had a spanner in her hand and quite obviously been repairing the family car whilst breast feeding, we would have applauded the sight – better still, had the only male in the photograph been looking puzzled/brain dead/admiring of her mechanical skills we should have been exhorted to cheer. The past few years the advertising quota has been filled with incompetent men outsmarted by multi-tasking women in any given task – no problem there. No, the problem was that the owner of the nipple was actually stroking it herself – can you imagine! – and the accompanying male of indeterminate sexual preference was ignoring her. Another slight problem was that the company using this photograph in its advertising had already deeply upset the truly righteous nipple owner by promoting smoking.
Thus we get the ambiguously named Joey Abbis-Stubbs, a 'women's charity worker' – not any old charity worker, but a 'women's' charity worker whipping up a storm of protest.
"[In] a family-friendly shopping centre, I am sure many parents would be upset to have their children exposed to such material while taking them to the newly opened indoor ice-skating rink."
Not that she has conducted a scientific poll of such parents, you understand, but she is 'sure' just the same. Chief among her concerns are that the images are 'sexist in objectifying women, and that they are displayed where they can be easily seen by children'. Not in front of the cheee-ldren! Her 'retrograde' website gives the url www.joannasusie.com. Nuff said. Now I get the ambiguous 'Joey'.
Feminism appears to have thrown up a generation of men who are openly proud of the fact that they are not in the slightest bit sexually interested in women – there have always been the elderly 'brothers' who had shared a home for a generation or so, quiet, unassuming; or the Quentin Crisp characters of the arts world; but as the screeching harridans of the feminist world became more demanding so more men appear to have embraced the world illustrated by this photograph – which should be sub-titled 'blatantly on offer but no thank-you Darling'! What could be more natural than a company correctly assuming that they are more likely to sell their 'metro-man' suits to young single men who take a peacock like interest in their appearance – and thus not choosing to illustrate their advertising with a happily married man being made to look a fool by ultra-competent 'new' woman? A look at the company's web site further reinforces this view – as they promote this happy family shot of 'Joe and Joey' licking their lollies….. Not that you will see these images in the main stream media – Oh No! The Guardian illustrates this story with a picture of the bland exterior of the Westfield Shopping Centre where Ms Abbis-Stubbs was so traumatised that she was forced to complain to the Advertising Standards body – and promptly told to get lost! Other MSM have cut out the offending nipple lest the Mumsnet and Twitoris storm descend on their comments columns.
The Feminists have spent the past 40 years promoting the idea that women have no need of men beyond filling that all important test tube in the fridge – they can scarcely complain that metro-man now openly shows he has no need of women beyond a cursory glance under her skirt to reassure himself that there is nothing there on offer that interests him.
Quite why any feminist would be complaining at the sight of a woman pleasuring herself given her companion's blatant lack of interest in her defeats me….ideologically unsound, I would say.
What say you?
November 28, 2010 at 14:11




November 28, 2010 at 14:09







November 21, 2010 at 23:13




November 21, 2010 at 13:20




November 21, 2010 at 12:52




November 19, 2010 at 14:39










November 19, 2010 at 19:28







November 19, 2010 at 21:52




November 19, 2010 at 13:52









November 19, 2010 at 13:31









November 19, 2010 at 13:09









November 19, 2010 at 12:43




November 19, 2010 at 11:33













November 19, 2010 at 10:06