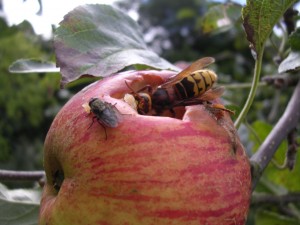 Venom courses through the veins and arteries of the main stream media today, venom, fear and loathing, of the Blogosphere. Ironically, most of the poison laden words appear in the on-line versions as well as the dead tree press – they may despise the Blogosphere, but they are too frightened of being left behind to really treat it with the lofty disdain they feign to adopt in their words.
Longrider has already perfectly skewered Yasmin Alibhai-Brown long diatribe on 'the stench from the blogosphere' with aplomb; not to minimise Longrider's skill, but it was a task made too easy by someone who writes such on-line pearlers as: "They can't write, can't think beyond the fix of a scandal, have no interest in the havoc they cause" whilst rushing to the defence of the 'approved' bloggers – 'Iranian and Chinese dissidents, those who write for 'not stick thin' women, teachers and academics'. Apparently there is no stench that arises from people whose views Yasmin approves of and whoever heard of an Iranian dissident who could write like a dream, thinks way beyond the fix of a scandal, and is mortified by the havoc his words can cause……
Yesterday, the Liddle Piddle was out of his pram and dissecting Guido's private life as a way of justifying his belief that the world should not be subjected to the 'semi-literate' words of convicted criminals such as Guido….interestingly, when Liddle was censured by the Press Complaints Committee for his racist comments, the BBC took care to describe him as a 'Blogger' at that time. We couldn't have a 'journalist' so censured could we?
It reminded me of the old Fleet Street tradition whereby if journalists were ever reluctantly forced to describe the court appearance of one of their number for some misdeed, they always, always, prefaced the obligatory mention of employment just so – 'Pervy O' Brian, who described himself as a journalist, was charged with 72 counts of bestiality – not a real journalist you see, just another of the goat lover's fantasies, not like us real journalists reporting this.
Judging by the BBCs reporting of Liddle's misdeeds, 'Blogger' has replaced the ubiquitous 'described himself as a journalist' as a way of putting clear blue water between the inhabitants of the high moral ground and those of us who are not paid.
The question of payment is also used to create the mental ha-ha protecting those on the front lawn from the savages in the undergrowth.
Polly-off-her-trolley's other half is at it too. The on-line version of 'Public Finance' (if you are in paid employment, then you write 'on-line', the inhabitants of the sewer merely 'blog' – terminology is important in these things) carries a lengthy argument from David-oh-God-the-lobbying-didn't-work-Walker, soon to be ex-boss of the Audit Commission. His argument is that the Audit commission is qualified, professional, passed all its exams, and thus is infinitely preferable to the 'armchair mavens' proposed by Pickles – an interesting choice of words 'maven' – Jewish readers are free to correct me, but I understood it to mean an expert in a subject?
"Who needs to pass the CIPFA exam? In this post-bureaucratic age, we've no need for inspectors and qualifications. Instead, ordinary people will sit at home, poring over the ledgers online, gesticulating wildly when they spot an anomaly – or even a spending item they don't like."
Spotted the anomaly? Waved your arms madly?
Abolish the paid employment at the Audit Commission and the only people scrutinising the spending of their tax pennies will be 'ordinary people'. Unprofessional, unqualified, given to gesticulating wildly. Do unemployed former members of the Audit Commission not sit in armchairs too? Will they not continue to take an interest in their specialist subject once they are unemployed, without the need to 'gesticulate wildly'? They can't all lounge on a poltrona in Tuscany with Polly telepathically ferrying the Gin and Tonics as required.
One of the great strengths of the Blogosphere is the extraordinary range of skills and expertise that lurk behind the comical usernames. I never cease to be amazed.
When I wrote of Sheila Martin and her struggles with Sandwell council– and I will have more news very shortly, I promise, we are almost there! – I ended the piece with an invitation to any lawyers who happened to be reading to make contact if they thought they could help.
Within a couple of hours I had more e-mails than I had comments – and the comments were at that time running around the 50 mark, a figure now way out of date.
I had e-mails from Barristers and Academics, Solicitors and Local Authority Legal Advisors – all willing and able to pitch up with their specialist knowledge on Sheila's behalf – free of charge. Detailed information on the legal technicalities behind her offence positively poured out of them. By the end of that first night we had a legal team that would not have disgraced the defence team for a major conspiracy trial at the Old Bailey.
We also had e-mail addresses and mobile phone numbers for virtually everyone on the staff at Sandwell Council, home addresses, photographs of their houses for heavens sake, even, in one case, a photograph of the aluminium wheels on their BMW that were for sale on e-bay – the cuttings library at the Old Mirror building was famed for the ability with which it could come up with a cornucopia of information on any obscure subject; I would pitch the wit and wisdom of the Blogosphere against their sleuthing skills any day.
The old days of being able to distinguish who is competent and who is not by labels such as 'professional' or 'journalist' are long gone.
Extinguished partly by another of the great strengths of the Blogosphere – their willingness to work together, rather than in tribal loyalty to any particular employer. Where professional auditors apparently only do their job when they get paid to do so, bloggers would be more inclined to pool their knowledge to get through the task quicker. Where journalists compete to buy and sell endangered donkeys to prevent their rival getting the story, bloggers would be more inclined to link arms to carry the donkey home.
Hence the venomous stingers lashing through our ranks in the last few days. The death throes of the dozy autumn waspish crawling over the carcass of their rotten apple. The winter frosts of economic reality will deal with them soon enough.



September 7, 2010 at 09:21







September 6, 2010 at 22:47







September 6, 2010 at 21:55







September 6, 2010 at 22:08







September 6, 2010 at 21:33










September 6, 2010 at 21:35




September 6, 2010 at 21:16




September 6, 2010 at 21:16







September 6, 2010 at 21:18




September 6, 2010 at 21:14







September 6, 2010 at 19:02







September 6, 2010 at 18:14




September 6, 2010 at 17:42







September 6, 2010 at 17:31




September 6, 2010 at 16:44




September 6, 2010 at 16:39




September 6, 2010 at 15:57




September 6, 2010 at 15:08










September 6, 2010 at 16:01







September 6, 2010 at 16:29




September 6, 2010 at 16:30










September 6, 2010 at 16:39









September 6, 2010 at 18:11







September 6, 2010 at
18:39


September 6, 2010 at
20:12


September 6, 2010 at
20:30





September 6, 2010 at
20:40





September 6, 2010 at 20:11







September 6, 2010 at 21:30




September 6, 2010 at 21:31







September 6, 2010 at 21:53




September 6, 2010 at 21:39




September 6, 2010 at 21:42







September 6, 2010 at 21:45




September 6, 2010 at 22:15







September 6, 2010 at 22:19




September 6, 2010 at 22:30