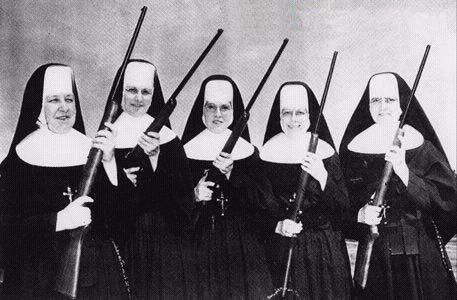 My parents are, like me and so many of my Sisters here at THE CONVENT, most mild of manner and demeanour. But unlike me they are in their eighties, though in blessed good health. They have a little semi, and although they get on perfectly well with their neighbours, there has been a problem. For there is a leak in the water pipe under their neighbours' house, and it is alleged that this makes their neighbours' shower run a bit slow. The problem is that said neighbours have built a great big fat extension which has concreted over the pipe making it very difficult to get at (they were warned, but there you go). This meant that they would have to dig up part of their kitchen to get at it. They preferred the solution of coming onto my parents' property and getting at the leak that way, digging up part of my parents' garden and re-routing the water supply. All of which is fine, but actually my parents did not want their garden DUG UP and just wanted to be left undisturbed if at all possible.
Letters began to arrive at my parents' house addressed to "the Occupier". They were from some sort of building company and advised that there was an unspecified leak but it was all OK; if "The Occupier" referred the matter to his insurer, arrangements would be made and the "necessary work" would be done. They did not give any proper explanation of who they were from or what was going to be done or why. These looked like one of those scams you get on WATCHDOG and I advised my parents to put them in the bin, which they did indeed do with alacrity.
However, dear reader, you will be amazed by the events which then unfolded! A few weeks ago by the Lord's Grace I was taking a little sabbatical from the Convent and staying with my parents when someone who appeared to an OFFICIAL of the water company did arrive unannounced. One could tell he was an OFFICIAL because he had a yellow safety jacket emblazoned with the words "United Utilities." He arrived at about 9.00 am in the morning, at a time when my parents, being elderly, were not quite up, but I was, and I opened the door. The OFFICIAL smiled a bit wanly (well the habit can be off putting, I admit) and explained that he was from the water company and had come to survey the garden and look at the kitchen so that they could start work later that week. So if I would just open the gate to the back garden he could get started.
I was amazed by these tidings and a bit disturbed, not least because I was not happy about letting a man into my elderly parent's garden and kitchen when I did not know him from ADAM. So I asked if he had any identification, which seemed to DISPLEASE him most mightily, for then he had to return to his car to get some.
When the OFFICIAL returned he showed me a little plastic CARD and re-iterated that he had come to survey the garden and the kitchen. I said he could not, for we had received no notice of his arrival at all, and he had not been invited. I said that if he wanted to come and survey the garden the water company could write and explain why and make an arrangement to come at an agreed time which would be felicitous to all concerned.
He then looked a bit blank and said:
"Ain't you 'ad the DF 5 letter, then love?"
I was most MIFFED at this disrespect, and did consider going to get my new Sig Sauer P226 9 mm Parabellum and showing him the true meaning of the word LOVE, but I remained calm and replied that no, we had not received any letters from the water company.
He insisted we had.
I insisted we had not.
Upon receiving this retort the OFFICIAL grew more vexed than ever, but he proceeded to explain that the water company had Special Statutory Powers and that if there was a leak then they could come on and fix it and arrangements had been made for later that week. I replied that we didn't have a leak, thank you very much. He said they would just serve "a DF 5" so we might as well get on with it. Although I am but a frail woman I am not without resources of courage and spirit, and I told him that without receiving proper notice and an explanation of those alleged Powers, he could not come onto the property and any attempt to enter with workmen would be met by me popping along to the nearest county court to get an injunction to prevent access. Also, in the meantime my Sisters from the Convent would form a human barrier to prevent access and any attempt to move them would be a common ASSAULT and not only a crime but an actionable civil wrong (although knowing the girls from the Convent, I think I know who would be doing any assaulting.)
The OFFICIAL seemed quite taken aback by these words, and appeared to be breaking out into a sweat. He re-iterated that the company had Special Powers (he did that a lot actually) and I replied that so did the LORD and that with my blessings he could leave now. Which he did, rather sulkily, I thought, considering how nice I had been.
A lull in proceedings then followed. However, a couple of weeks later my parents received an official LETTER. It began thus:
"DF 5 FINAL NOTICE – WASTE OF WATER sections 73 and 27 of the Water Industry Act
We wrote to you on 10th June regarding the leak on the supply pipe running through your property…we have now re-inspected the site and found that the leak has not been repaired…"
It then continued to explain how the company had these Special Statutory Powers and how the costs of repair would be charged to the properties (this was new and most unwelcome) and how if we refused to allow entry a warrant would be obtained from the magistrates court.
At this point I decided to consult my SPECIAL FRIEND with whom I have a certain UNDERSTANDING, Gildas the Monk. For some say he is wise in some ways of the world although he is clearly a fool in others. Upon my presentation of this missive to him he meditated long upon it, and then upon his COUNSEL we wrote back pointing out, amongst other matters we had not received any letter from them dated 10th June or any other date and that their "Final Notice" was thus invalid, and seeking a copy of said letter of 10th June for good measure; that they had never in fact inspected this property because their OFFICIAL had been refused entry because they had given no notice of his arrival; that we had never refused them access as such but merely asked for proper notice of when they intended to come; and that as far as we were aware there was no problem with the water here. Gildas did add a technical bit to the effect that on a true construction of the legislation they had no power to come on if there was a leak but it was not actually under our property, but on someone else's. Finally we invited them to make an appointment to come and see that of which they had been informed, and asking them not to apply for any warrant from the Magistrates without showing them the letter. For Gildas can be GOOD WITH WORDS, although he is often very BAD in other ways.
Then there were a few phone calls from the water company, one in particular with a nice young lady called Tracy who spoke to Gildas, as he had called in for afternoon tea. They seemed to be getting along RATHER TOO WELL, if you take my meaning, but she promised that they would get their Plumbing Manager to call us and arrange a site visit at a proper time.
But the Plumbing Manager did not do that which she had said and which had been so solemnly promised! So, once again taking the counsel of Gildas we sent reminder letters to the water company recording what had been promised and pointing out their SIN in failing to do that which they had said they would, and yet all the while cunningly being most reasonable in tone!
Eventually, however, a meeting was arranged a TEAM OF MEN came along, and they stood around looking GLUM. They seemed to take the view that it would be rather more complicated to dig and do stuff than they had reckoned for verily the leak was next door after all. And then they went away.
But lo! Eventually, yet another letter arrived. It said that our complaint had been considered (although we had not made one!) and in view of the fact that the leaking pipe did not belong to them, they would be taking no further action. Meaning, I think: this could be hot potato, let's leave it. Truly this was the work of the LORD!
So there we are. The point of this little farrago was not in fact to deliberately obstruct the water company, or even upset my parents' neighbours for no good reason. I am sure that will all be sorted out. It was merely that there was something rather sinister in the way an OFFICIAL turned up without any due process at an elderly couples' door, did not properly identify himself, and assumed that he and his company were all powerful and could do what they want, and the company was then prepared to send out threatening letters which were inaccurate. I suppose that makes me one of "the Awkward Squad", but maybe there should be a few more of us?
In love and light.
Sister Eva Longoria September 1, 2010 at 00:23







September 1, 2010 at 08:05







September 1, 2010 at 12:32




August 31, 2010 at 23:50




August 31, 2010 at 20:45










August 31, 2010 at 23:01







August 31, 2010 at 20:00




August 31, 2010 at 19:13







August 31, 2010 at 20:21







August 31, 2010 at 13:17




August 31, 2010 at 11:34




August 31, 2010 at 08:42







August 31, 2010 at 09:50




August 31, 2010 at 08:22







August 31, 2010 at 09:51




August 31, 2010 at 09:51