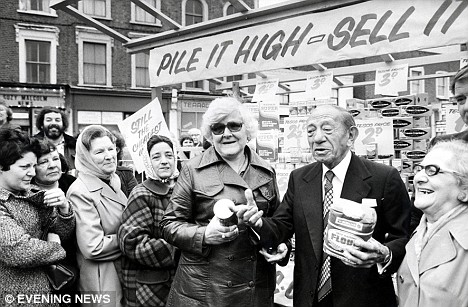 "Roll-up, roll-up, get yer lovely ASBOs here – George, give that lady an ASBO and an extra one for her husband, hurry up there lad! – and a conditional discharge for the lady in blue."
"Right m'duck, one community service coming up and an easy-over fine on top."
"Only cash here, no credit, pay yer fine to the lady at the till."
"Let that little lad through, ah, youth offender, put a bag over his head George, can't have him identified – is there an appropriate adult in the house? – Thank-you madam, step forward, just take him into the ladies changing room, next to the outsize jeans, you can interview him in there."
"Four pound of Tom'''''s for the lady in red."
"What's that? You're looking for the Custody Officer? In the gents changing room Madam, in the Greeting Cards and Sundries aisle."
"Lovely ripe Bananas and a Victim Compensation Surcharge for the Toby, no rush Sir, we're open 24 hours."
"Case adjourned lady? Come back next week, can't promise to have any cheap Tatties then though, sure you'd rather not plead guilty?"
Yes! The caring, sharing, oh-so-accessible, we've got nineteen year olds, black, pink and yellow, all diversities catered for, wheelchair friendly, Magistrates Association has come up with their latest nothing-to-be-frightened of, transparent justice, no need to be inconvenienced, pay us at 30p a week, scheme.
They want to hold court in Tesco's…..
"Why not use a unit in a shopping centre with a glass front where everyone can see what is going on? Summary justice should be about dealing people where they actually are," he said.
"We could have a court in the Westfield shopping centre, for instance, so that instead of a shoplifter being taken to the police station and it taking hours to build a file even if they are going to plead guilty, they could be dealt with far more quickly."
Defendants and Witnesses browsing the shelves companionably side by side, at Lidl – who's going to sort out the punch-up? The hatchet faced store security officer who just nicked the culprit?
Justice! – Pile it high, sell it cheap. I don't know whether to laugh or cry!