And this little Piggy grew up…..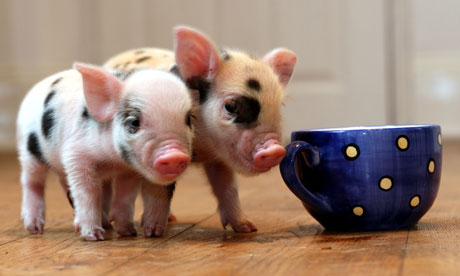 Remember the too, too chic 'tea-cup piglets'? The must have accessory for the terminally fashionable? The £700, stuff it in your Gucci bag, take it to a film premiere, let it sleep on your bed side table, perfect pet? The one that even seduced Victoria Beckham, her of the fastidious taste?
It seems that the advert which accompanied the above picture was slightly misleading, and today the Advertising Standards Authority has banned the 'Little Pig Farm' from running that ad any longer because it inferred that the little cutie pies would never get too big for your Gucci bag any bigger than 12-16 inches high – and that just isn't true.
The British Kune Pig Society challenged the ad on the grounds that although Kune piglets are especially small and cute – Victoria's bed table accessory was quite likely to look like this at two years old……
She must be thrilled!