Having a Pop at the Pope.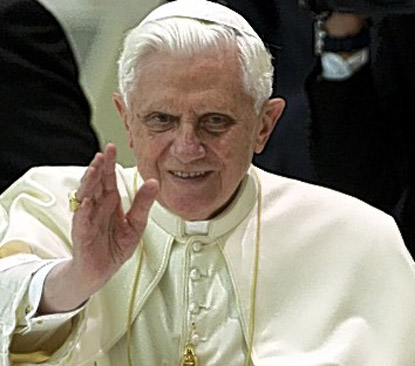 I was all set to have a nice little knee-jerk rant this morning.
Pope's visit to cost the tax payer £12 million?
Whee, here I go. God's sake, t'would be cheaper to give all the Catholics a ticket to go to Rome wouldn't it? Hmmn, better check a few facts first….
4.6 million UK residents declared themselves to be Catholic at the last census; that was a surprise, so £3 a head each would cover that phenomenal bill for security? But it's not £3 a head is it? We are all paying that bill – perhaps I can go on the 'but this is a Church of England country' kick, subsidising a minority religion…..
Cue surprise No 2 –
A survey of 37,000 churches, shows the number of people going to Sunday Mass in England averaged 861,000, compared with 852,000 Anglicans.
Churchgoing in Anglican and Catholic parishes had stood at about a million each for the past 10 years, though the relative equality in their numbers over recent years is surprising considering that there are 25 million people who regard themselves as Anglicans, and only 4.2 million Catholics.
The Catholic population may only represent 8% of our total population but 25 % of them actively support their church, so perhaps that £12 million to give 8% of the population the chance to see their number one man is not such bad value after all when you compare it to the estimated £36 million pound cost of security for the 2012 Olympic sailing events, which will almost certainly not be avidly followed by 8% of the population…..
August 18, 2010 at 14:42







August 18, 2010 at 06:49




August 18, 2010 at 01:06




August 17, 2010 at 22:18




August 17, 2010 at 18:53







August 17, 2010 at 19:29







August 17, 2010 at 18:08







August 17, 2010 at 17:40




August 17, 2010 at 17:38




August 17, 2010 at 17:27




August 17, 2010 at 15:54




August 17, 2010 at 14:17




August 17, 2010 at 13:50