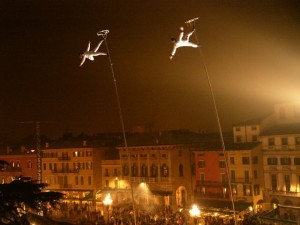 Life in a very small and very rural French village can be surreal at times.
We are clustered round the 15th century church of St Felicien. It is a historic monument, Grade 1 listed in English terms. Two years ago, part of the stone roof fell in, neatly avoiding the bowed heads of mourners at a funeral. A £2 million euro restoration project was the result, and until very recently, the church was covered with scaffolding as stone masons repaired the damage.
Yesterday, as I made my way to the Boulangerie, I noticed a group of men setting up scaffolding again. Vastly superior scaffolding, every inch of it stainless steel, soaring up to the very pinnacle of the bell tower. I was intrigued.
By lunchtime, as I ventured out again, a small group of villagers had gathered to watch this unexpected development. People were asking M. Le Maire what was going on – he was delivering a classic Gallic shrug to all enquiries.
A heavy duty Mercedes truck blocked the entrance to our street, attached to the front of it was one of the stainless steel hawsers securing this 'new' scaffolding to the belfry. Another vast Mercedes camper van was slung across our laughable 'roundabout' with yet another steel wire secured to its bulk. Traffic was forced across the road. Still the Maire shrugged.
To appreciate the scene, you have to understand that the Maire in a French village is God. True, there are regulations issued from Paris governing what he can do, but by the time word has filtered back to Paris, he has done it; besides, who is going to tell Paris? If the Maire decides to close the village to all traffic, or switch off the electricity, or any other eccentricity, then he does. We don't have an army of snoopers on hand to phone social services or the health and safety executive or any other body. To remind you of the ground rules governing the tale I am about to unfold, I shall shorten this entire paragraph to the acronym TIF. It stands for This Is France, and explains everything.
As nightfall fell, there were ropes dangling 30 feet from the steel hawsers, laying coiled on the ground – heavens to Betsy, someone could have tripped over them – TIF.
A motor bike appeared to be suspended in one of our lime trees, with no visible means of support. Two steel towers stretched 60ft in the skyline with enticing ladders allowing you to climb up them – a child could have made the attempt and fallen, there were no barriers – TIF.
A generator roared away, unfettered by barriers, unattended. The village children, always the first to be aware of anything unusual happening, were chatting away to some 'foreigners' and running in and out of the caravans which had pulled up by now. We don't have CRB checks over here – TIF.
The sun disappeared behind the horizon, and the darkness was pierced by a searchlight. We left our houses to stand and stare, probably some 100 of us. A man dressed in white appeared high up on the belfry and gave the 'thumbs up' sign to the Maire – whatever his task up there, he had successfully performed it.
Then something incredible happened. He stepped out onto the steel hawser and proceeded to walk along it, 60 foot over our heads, and continued walking until he reached the other end of the wire tethered to the château roof some 100 foot away. He carried a heavy metal pole. He could have dropped it on our heads at any moment; He could have fallen on our heads at any moment. There was no safety net. We were not chivvied away to a safe vantage point, we stood underneath him open mouthed. TIF.
He enquired whether there was anyone brave enough to join him. A young girl, perhaps 11 or 12, volunteered. Another man guided her up the scaffolding until she reached the platform at the top. There she climbed on the back of the intrepid walker, and he proceeded to repeat his journey, carrying her. Her Mother turned white. There was no harness, no safety net. TIF.
We had, it seems, been visited by Ramon Kelvink, a third generation member of a famous German troupe of trapeze artistes. No circus, no fanfare, he had traded the right to stop a few days in our village for some forgotten task in the belfry. He travels accompanied by his wife, and a Canadian female trapeze artist, Catherine Leger and her husband. Both Kelvink's wife and Catherine have young babies; babies who were calmly handed to members of our little audience whilst they took their place on the steel towers. TIF.
The towers oscillated and swung high over the belfry as they climbed higher and higher. They performed headstand on those towers, they dangled on one hand, they swung closer and closer, until finally they could grip each others arms and change places. We held our breath. Ramon appeared and drove the motorbike along the wires towards the château roof at high speed – if you haven't seen a motorbike flying through the trees at 60 ft above your head as midnight approaches, you haven't lived. Eat your heart out Pink Floyd.
I have managed to track down a piece of film showing the Kelvink family's incredible act performed in another small town – I can't download it, but it is available to watch HERE.
They are gens du voyage, travellers, roamers, that band of people who are generally anathema to any small community. Celebrated gens du voyage, for they normally perform at expensive venues, the Eiffel Tower, Toronto, Belfast, places where you may pay a small fortune to see them – but last night we watched for free.
If you ever get the chance, do so. It won't be as magical as our impromptu display, and no doubt the health and safety elves in another country will ensure that you are not in such close proximity to their death defying feats, but Thank God – TIF.
This morning Ramon is out in the village square, with a 'training wire' some 6 "above the ground, teaching all the children how to tight rope walk. They are having the time of their lives.
August 12, 2010 at 11:42




August 10, 2010 at 15:44




August 10, 2010 at 15:17







August 10, 2010 at 15:11




August 10, 2010 at 13:40




August 10, 2010 at 13:17




August 10, 2010 at 11:52







August 10, 2010 at 11:51







August 10, 2010 at 13:06




August 10, 2010 at 11:39