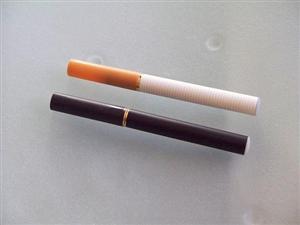 Frank Davis and Leg Iron are predicting a ban on E-cig sales based on a letter from Sussex Trading Standards written by a Helen Wade. In her letter Ms Wade said that e-cigs would be banned within 3 weeks on the say so of the Medical and Healthcare Products Advisory Agency.
Of course the utterly odious Ms. Wade was lying, the MHRA were not asking for a ban. In their report they were merely suggesting that e-cigs should be regulated as a healthcare product which brings it under their remit. In other words it's a money/power grab by yet another quango that no-one has ever heard of. The report (if you can call it that) suggests that the e-cig suppliers will need around 27 grand to test and license the product and they calculated that half of the 40 odd suppliers of e-cigs in the UK are too small to afford it so they'll go out of business but the other half, in anticipation of extra sales, will swallow the cost. Nowhere did it suggest that a ban was imminent.
Wade's gleeful motivation appears to be that she wants more resources to enforce the ban even though, to the best of my knowledge, none of the suppliers are based in her area.
However on reading the report it throws up some interesting facts. For example they said that the difference in life expectancy between a smoker and a non smoker was around 3.5 years given that, according to the ONS, life expectancy in the UK is nudging 80 years that means the righteous non smoker will have 3 more years staring at the tv and sitting in a puddle of wee ahead of them than a smoker. Oh joy, I can hardly wait. And statistically (and according to research) these righteous non smokers are more likely to be suffering from Alzheimer's.
Proof? Ok lets's give you some quotes from actual studies: "A statistically significant inverse association between smoking and Alzheimer's disease was observed at all levels of analysis, with a trend towards decreasing risk with increasing consumption" (International Journal of Epidemiology, 1991). "The risk of Alzheimer's disease decreased with increasing daily number of cigarettes smoked before onset of disease. . . . In six families in which the disease was apparently inherited . . . the mean age of onset was 4.17 years later in smoking patients than in non-smoking patients from the same family" (British Medical Journal, June 22, 1991). "Although more data are needed . . . [an analysis of 19 studies suggests] nicotine protects against AD" (Neuroepidemiology, 1994). Nicotine injections significantly improved certain types of mental functioning in Alzheimer's patients (Psychopharmacology, 1992). One theory is that nicotine improves the responsiveness of Alzheimer's patients to acetylcholine, an important brain chemical.
Oh dear. Notice that even the BMJ was in there before they got all politically correct, started to ignore peer reviewed science and lost the trust of the public.
So given the fact that nicotine appears to have health benefits why is the MHRA getting its tights in a tangle over e-cigs which deliver it safely and with no adverse side effects, particularly to third parties? According to the report it's because an (un-reviewed) piece of research in the US suggests that carcinogens were found in the steam the e-cig supplies. Yet according to proper research undertaken in New Zealand by the University of Auckland, the researcher, Dr Murray Laugesen, said: "..[people] are not going to die from an e-cigarette – but they could die tomorrow from a heart attack due to their smoking. The carcinogens that we have found are in very, very small quantities, just above the level of detection." Another clue was found in the fact that the MHRA report appears to have been sponsored by Johnson and Johnson who make Nicotine Replacement Therapy (NRT) products and who stand to lose a lot of money if e-cigs become a popular form of giving up smoking. Note that in the report there was no mention of making tobbacco illegal nor of bringing it under MHRA control (which begs the question as to why.)
What was interesting was that the report states the effectiveness of these existing NRT products (inhalers, gum, patches and lozenges) as 5%! In other words they are statistically proven NOT to work as 5% is barely above ground noise.
On the other hand if the e-cigs are approved then, according to the report, they must be offered on the NHS next to (and in most smoker's eyes in preference to) the current wildly expensive solutions offered by big pharma. I'd love to see Arnott's face if that happens.
So basically we have a money grab from a quango, based on nudges from big pharma who stand to lose a lot of money, which in turn is interpreted as a prelude to a ban by a thoroughly reprehensible public 'servant'.
What a way to run a health policy!
Kevin
August 5, 2010 at 20:56




August 4, 2010 at 21:55







August 4, 2010 at 16:27




August 4, 2010 at 15:25




August 4, 2010 at 09:54







August 3, 2010 at 22:26







August 3, 2010 at 20:54




August 3, 2010 at 20:44




August 3, 2010 at 19:14




August 3, 2010 at 18:39