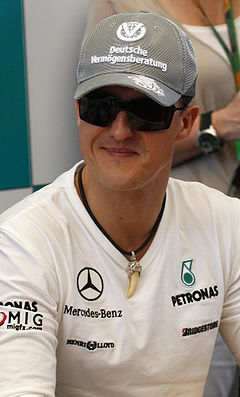 Michael Schumacher and Nigel Mansell were both on the move at the week-end.
Two men who have enjoyed the riches of Formula 1, the adulation of the world, and the good fortune to survive death and injury as a direct result of having been combatants on the race track.
Schumacher had been offered the chance to pontificate at Ferrari, to become an elder statesman and nurture future drivers from the safety of the factory and the pit lane.
It wasn't enough. Both his ego and his personality demanded the adrenaline of the race. He returned to the track, somewhat ignominiously. He has lost that critical advantage in eye and hand co-ordination that took him to the front of the pack and made him seven times world champion. All that is left is the pathological addiction to winning that saw him edge Barrichello to within 6" of the pit wall at 180 miles an hour in a derisory battle for 10th place.
Nigel Mansell, on the other hand, has retired from the race track with grace and decorum. He was also racing on Sunday. Cycle racing with his two sons, leading a 1,200 mile charity race across the country in an effort to raise money for the UK Youth charity. He has harnessed his desire to lead the pack for the benefit of those less fortunate than himself. To spending time with his family.
It made me go in search of the medical requirements for a Formula 1 super licence; I wondered whether there was any exploration of a driver's mental state before allowing him to race.
All great champions have a sense of entitlement and arrogance; entitlement and arrogance which can lead to a sociopathic megalomania and the medical for the licence would not appear to hold any barrier to a driver becoming unwell in this way.
The medical, carried out by the driver's non-specialist GP, is obsessed with cardiac fitness, evidence of epilepsy, or optical dysfunction, but the only mention of the driver's mental health is this:
– Is there any evidence of a physical or mental condition (past or present) which could, in your opinion, prevent the applicant from holding a competition licence for motor sport?

? Yes ? No

If "Yes", give details below.
Whereas the Doctor is expected to carry out various specific tests before giving his opinion on physical fitness, it is merely his 'opinion' that is required on mental fitness.
Perhaps it is time for Formula 1 to address this deficiency? Giving Schumacher a 10-place grid penalty is only putting him further back into the pack where he will be a danger to drivers with less skill than Barrichello. It doesn't address the problem.
August 3, 2010 at 08:13







August 4, 2010 at 09:09







August 3, 2010 at 00:29







August 2, 2010 at 23:26







August 2, 2010 at 20:32




August 2, 2010 at 18:12







August 2, 2010 at 16:43




August 2, 2010 at 16:13




August 2, 2010 at 15:29