On the matter of Britain: 10 things NOT to like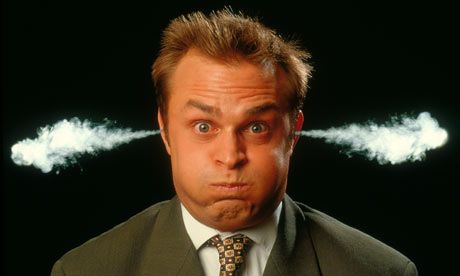 The Abbot has put me in detention after an unfortunate incident involving a bottle of White Lightning and a rotary mower. I am also to be denied the regular Saturday evening trip to play in the pool league at the Nun and Firkin. Woe is me! However, dwelling on my unhappy circumstances, I feel the need to emote on things about public life that make me thoroughly angry, and thus put my temporary travails in perspective. Here are my top ten.
1. Pointless Inquiries. Whether it's Hutton or Chilcot, Climbie or whatever. I do not know the total cost of these and the many others (it would be too depressing to contemplate), but whatever it is, I could have saved the government the trouble. There is a standard template for the report. Nobody in high office is to blame. There may have been mistakes, but these were made "in good faith" (note to self: fail to pay my road tax "in good faith" and see where it gets me) and these are largely the result of "systemic" failings. Lessons have been learned. There will be one or two sacrificial lambs down the food chain depending on whatever political expediency is required at the time. These "independent" inquires are run by government appointees, Establishment Figures par excellence. And Establishment Figures are not in the habit or business of biting the hand that feeds them, or criticising serving or indeed ex Prime Ministers and causing a ruckus. Given 20 minutes, a couple of pints in the beer garden of the Nun and Firkin, a ballpoint pen and a sheet of A4 and I could have saved them all the cost.
2. Lord Prescott. Speaking of inquires, I see the notable "Savant" Lord Prescott of Pies, having completed his PHD in "How to be an old style class warrior and hypocrite" and begun work on his autobiography (working title "Pies, Perks and Pensions for Prezza!"), has been explaining his reservations about the evidence of WOMD to Messrs Chilcot & Co. His suspicions were allayed, however, by those intelligence officers whose word he was compelled to trust. Really? I am surprised he took a break from munching his dinners, besporting himself at croquet, or grotesque couplings with his secretary to read the stuff in the first place. How depressing to see this verbally incontinent, incomprehensible buffoon, quite literally, Lording it.
3. Reality TV. As a good libertarian, I should allow The Trishas, The Jeremy Kyles, the Davinas and their appalling guests or "contestants" to seek validation for their sad, empty, futile and unhappy lives in whatever way they wish, provided it's not courtesy of my licence fee. I don't have to watch it, I know. But there is a time when principal must bow to pragmatism. All of these people must be arrested and sent without trial for an indeterminate period in a Siberian Gulag run by psychotic geriatric ex Stasi. Now. It is sufficient to know that they are out there, polluting the airwaves, to spoil my day.
4. Jonathan Ross. The "talented" broadcaster – or so insist the fawning mee-ja luvvies. I am sure that Mr. Ross is quite a personable and good man, and I applaud him for a long and relatively stable marriage (have you seen Jane Goldman? He must be braver than he looks). But when it comes to broadcasting talent, I can detect very little, unless it is for self publicity, or ruining Radio 2 on a Saturday morning by playing his dodgy taste in music and prattling on about himself. And if the BBC had really wanted a middle age man to leer lasciviously over his female guests and make puerile and distasteful comments to them of a Friday night, I could have filled in just as well, and at a fraction of the cost! I understand Mr Ross is now to take a sabbatical from broadcasting for a year. Well, having pocketed a vast salary from the profligate BBC he can afford to do that. Most people can't.
5. Fake A level results. Once the Gold Standard of education, I remember them fondly although I had to work my bottom off. However, now debased in the pursuit of the previous government's relentless pursuit of positive statistics and successfully completed targets. This has been the appalling educational equivalent of a beautiful child being offered as a human sacrifice to God of Soundbites by cynical and malevolent political Shamans. Criminal.
6. Closed down pubs. Everywhere I go in this northern part of the country, seemingly, and sadly in my real life a matter which I have to deal with. Each one is a symbol of a passing age where people would actually go out to meet, free from the strictures of the Health Nazis. Former bastions of working class communities, now broken and scattered. All passing before the tide of recession, cheep supermarket booze, "bars" and changing habits – as we all drink ourselves to death at home instead. Each one has behind it a tale of a failed business and probably a failed dream, a hopeless venture which could never succeed in the modern market. Empty, sad, boarded up buildings. Little tragedies each one.
7. The Bonus Culture. Time was when you got a reward for success and exceptional performance. When civil servants got paid for doing their job. Tish and Pish! Away with such simple, old fashioned notions! Get yourself on a good quango, or a position on the board of a privatised industry and away you go. Railway running on time? No? Have a bonus! Civil servant overspending at the MOD? Have a bonus as well as a pension! Analysis of parliamentary questions and departmental accounts shows that in 2008/9 civil servants were awarded £129 million in bonuses. Of the innumerable examples, my favourite is the MetOffice, the meteorologically challenged organisation which brought you predictions of a "Barbeque Summer" and mild winter, and which recently paid out £1.1. million in performance bonuses. Armed with my trusty pine cones and a copy of Old Moore's Almanac I believe I could have given them a run for their money. Bonus please?
8. Radio 4's Moneybox. Oh, God…..Enough said.
9. Average Speed Cameras. For so many reasons. Because you probably have to travel by motorway because the train is late, or smelly, or doesn't go where you want, or all three. Because of the endless, soul destroying road works, all populated by that icon of the Highways Agency, the "NEW" man – meaning Non Existent Workman. Because they gaze at you soullessly, soundlessly, mournfully, remorselessly, ever watchful for the excuse to fine (meaning tax) you; the technological embodiment of the bureaucrats and statists who so subserviently do the bidding of Our Lords and Masters. Yet another sign of the Surveillance State, endlessly prying, collecting, recording.
10. Dame Suzi Leather, DBE. A "topic" raised in earlier posts, and always sure to raise my blood pressure (phnaar! phnaar!). The ultimate labour quango apparatchik, Dame Suzi has managed an impressive collection of 30 public sector appointments in the past 15 years. In her present incarnation she holds the Chair of the Charities Commission, albeit having no legal or accountancy background. She thus obtains a salary of £80,000 for a three day week; but since she "lives in the west country" she is afforded travel and accommodation expenses of more than £24,000 per annum (no hint of moving, then, Dame Suzi – like other people have to do for a job. No? Didn't think so). The ultimate icon of the necromantic, incestuous, freeloading, unaccountable wastes of space who gorge themselves on the public purse. Her very existence makes me very, very unhappy.
There. I feel so much better now!
Gildas the Monk
August 10, 2010 at 14:50




August 2, 2010 at 21:28




August 2, 2010 at 13:26







August 2, 2010 at 13:29




August 2, 2010 at 12:18




August 2, 2010 at 09:37







August 2, 2010 at 00:55







August 2, 2010 at 00:22




August 2, 2010 at 00:17







August 1, 2010 at 23:01










August 2, 2010 at 09:46




August 1, 2010 at 22:25







August 1, 2010 at 22:38







August 1, 2010 at 22:45







August 1, 2010 at 22:19




August 1, 2010 at 20:08




August 1, 2010 at 19:39










August 2, 2010 at 01:27




August 1, 2010 at 19:20







August 1, 2010 at 18:47










August 2, 2010 at 01:25







August 2, 2010 at 14:32







August 1, 2010 at 18:36




August 1, 2010 at 18:25







August 1, 2010 at 20:42




August 1, 2010 at 17:53







August 1, 2010 at 17:13







August 1, 2010 at 20:41