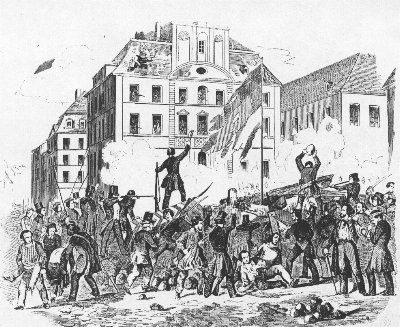 More than 1,500 years of chanting and chronicling have left this humble scribe a tad cynical and somewhat inured to the woes of the human condition, so there was an unusual event at the Abbey yesterday, as during a snap cell inspection (think "Shawshank Redemption" meets "Cadfael") the Abbott discovered that your author had, apart from a little contraband, a tear in his eye. He was quite shocked, and even allowed me to miss the usual 5 mile cross country run before Even Song.
The cause of this shameful lack of self discipline and breach of our Order's strict Rule was an interview with the delightful Miss June Kilner on BBC Radio 5 Live's "Drive" program.
Miss Kilner lives in a two bedroom Council flat in a high rise block in Brighton. To be precise, she moved in with her parents more than 47 years ago on 16th April 1963, when the flats were newly built, and has lived there ever since. She never married and never had her own family, but lived quietly and modestly with her parents. She was no workshy sponger. She worked happily at the same (unspecified) job for 39 years until, after her after her father died, her mother grew increasingly frail and she was compelled to give up her job to look after her, ultimately becoming a pensioner looking after a pensioner.
Sadly, Miss Kilner's mother has now died, and to add to her distress, because of a legal quirk she now faces eviction. Under the Housing Act 1985 a council tenancy can only be passed on by succession on death once. The tenancy was originally in the joint names of Miss Kilner's father and mother. When her father died the benefit of the tenancy passed automatically to her mother, thus using up the one allowed succession. Upon her mother's death the tenancy ended, leaving Miss Kilner facing eviction.
Of course there is a good reason for the rule, namely to stop a council tenancy being tied up for generations in the same family when there may be more needy and deserving potential tenants. And one could, if one wished, construct the case that Miss Kilner has had a good run, and should jolly well look after herself.
However, I defy anyone not to listen to her interview and not feel moved at the plight of this now elderly woman, as well as both her distress and dignity in the face of being evicted from the home she has lived in for her entire adult life, with all the memories that go with it. It is available via the BBCi player or Radio 5 Live website in the "Drive" program for 30/07/2010 at 1 hour 26 minutes. Hopefully you will find a direct link to the appropriate page here:
The Council apparently feels its hands are tied in this situation, and, according to the law, Miss Kilner has to go. Balderdash! (I might use stronger language, but not here).
There is a time for rules, and a time when the rule book should be consigned firmly to the bonfire. It does not need anything particularly dramatic to remedy this situation. It needs a sensible course of looking the other way. Looking the other way is something which Councils and Governments do all the time when it suits them. And who would complain? Some whinging teenager with no job and an ASBO? So? File the complaint where it belongs – in the bin.
Law which is not tempered by mercy and good judgement is no law, just servitude. In this country (I mean Britain) government of all degrees has become hide bound by rules and "process", endlessly concerned with the threat of litigation, and blind to the reality of the lives of its decent citizens. Lawyers and Judges do not help.
So far my internet researches have revealed no more of Miss Kilner's story, but this is one I am not going to let drop. It is time to stand up for someone who has led a quite, decent, modest life. An "ordinary" person – meaning a person who is extra ordinary, and worth a million Simon Callows, X Factor wannabees, reality TV lunatics, self regarding luvvies, bonus collecting apparatchiks, or specious and mendacious politicians.
To the barricades!
Gildas the Monk
August 10, 2010 at 14:37




August 2, 2010 at 22:42




August 2, 2010 at 12:09







August 2, 2010 at 17:30







August 1, 2010 at 10:24




August 1, 2010 at 07:53







July 31, 2010 at 23:24




July
31, 2010 at 21:36


July 31, 2010 at 21:21




July 31, 2010 at 20:14










July 31, 2010 at 20:24







July 31, 2010 at 19:43







July 31, 2010 at 19:58










July 31, 2010 at 20:01




July 31, 2010 at 18:17










July 31, 2010 at 23:31







July 31, 2010 at 18:27







July 31, 2010 at 19:13




July 31, 2010 at 20:09







August 1, 2010 at 00:57




July 31, 2010 at 18:03




July 31, 2010 at 17:40




July 31, 2010 at 17:15




July 31, 2010 at 17:11