The British Bulldog's Bite.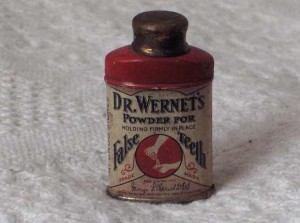 A set of Winston Churchill's false teeth are up for auction with a guide price of between £4,000 and £5,000.
It is claimed that the false teeth, rather than being ill-fitting, were actually designed to preserve what has been described as Churchill's 'natural lisp'. (Nothing to do with the fact that "Fix-O-Grin" wasn't readily available in those days, obviously).
The great man's gnashers are being sold by Nigel Cudlipp whose father made the dentures for the wartime Prime Minister.
According to Mr Cudlipp, Churchill took to demonstrating displeasure by flicking them out of his mouth as and when the mood struck him: "My father recounted many stories of Churchill putting his thumb behind the front of the teeth and just flicking them," "(he) used to say he could tell how well the war effort was going by how far they went across the room and whether they hit the opposite wall. Churchill was not a man who was renowned for his patience."
It is suggested that only four sets of teeth were ever made for Churchill; he is believed to have been buried wearing one set, another seems to have been 'melted down' and the other set is in a London museum labelled "the teeth that saved the world".
Eat your heart out, Janet Street Porter.
UPDATE: And they were sold for $23,750 – three times the estimate! An anonymous American bidder.
July 31, 2010 at 08:16







July 30, 2010 at 20:50







July 30, 2010 at 21:07







July 30, 2010 at 21:09







July 30, 2010 at 22:05




July 30, 2010 at 20:07




July 30, 2010 at 19:47












July 30, 2010 at 18:23