Result for the Righteous.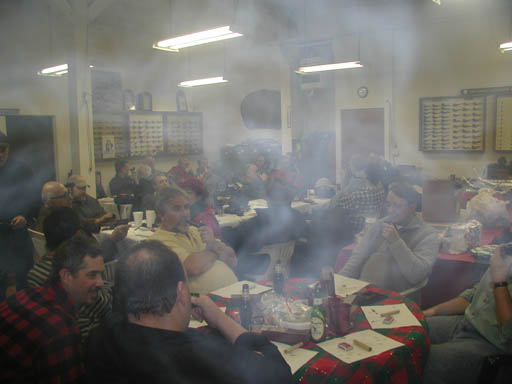 Years ago, Uncle Tom Cobbley would take off down to the local public house after his supper to enjoy his pipe and a conversation with the other allotment holders without having to mind his language in front of the ladies.
The public house was the poor man's version of the ladies 'withdrawing room'; a haven of strong drink, stronger language and thick smoke that 'er indoors' didn't choose to host in her front parlour.
Feminism broke through this barrier and ensured that the ladies were just as likely to be found propping up the bar now that they had a dishwasher and an electric iron and an abortion instead of another four toddlers to watch over.
The public house became a sanitised 'gastro-pub' so that Madame no longer had to return home to prepare the supper. Then it added a 'children's room' so that she didn't have to wait for the few children she had exercised her 'uman right' to produce to grow up before she could enjoy her equal rights.
Before too long it was literally a home from home with a juke box, and a TV and comfy sofa's to replace the bar stool. Now that it resembled Madame's front parlour, she complained that she didn't like the thick smoke, nor the strong language.
Air conditioning was installed, but it wasn't enough, so the smoking was banned, and the strong language disproved of.
Unfortunately, this had removed two of the reasons for the public house's very existence, so they went out of business at a rate of knots, some 60 a week to be precise.
What do you do with an ex-public house? It used to be extremely hard to achieve a precious 'change of use' certificate. The public house was the 'heart of the community' or at least the heart of the smoking/drinking/chatting community.
How very fitting then, that the Colgrave Arms in Leytonstone, is to become the heart of the local righteous community.
In doing so, it will no longer be open to the ladies to sup their pint of equality beer, nor to discuss their latest abortion. Nor to have their supper cooked for them, nor to watch Eastenders on the wide screen TV. In future they will have to stay at home.
As Hilaire Belloc wrote… "When you have lost your inns drown your empty selves, for you will have lost the last of England!"
I can foresee the day when Britain will be famous for having a 'righteous community centre' at the end of every street.
We will have 'The Sharia's Closing Inn', 'The Old Black Burqa', 'The Jolly Jack Straw', 'The Mustapha Alms', and 'The Crusader's Head'.
So many pubs to rename……see what suggestions you can come up with.
(Try not to make them libellous, I don't want to have to delete any!)
July 29, 2010 at 14:09







July 28, 2010 at 18:16







July 28, 2010 at 18:10




July 28, 2010 at 16:15










July 28, 2010 at 18:02




July 28, 2010 at 16:02




July 28, 2010 at 13:57




July 28, 2010 at 13:49










July 28, 2010 at 17:47




July 28, 2010 at 13:09




July 28, 2010 at 05:31




July 28, 2010 at 00:56




July 27, 2010 at 23:39




July 27, 2010 at 23:01







July 27, 2010 at 21:41




July 27, 2010 at 19:53




July 27, 2010 at 19:25










July 27, 2010 at 19:33










July 27, 2010 at 20:07







July 27, 2010 at 20:22







July 27, 2010 at 20:25







July 27, 2010 at 20:33




July 27, 2010 at 20:44




July 27, 2010 at 21:05




July 27, 2010 at 21:08







July 27, 2010 at 21:39




July 27, 2010 at 21:41







July 27, 2010 at 22:29




July 27, 2010 at 19:23







July 28, 2010 at 00:53




July 27, 2010 at 19:18




July 27, 2010 at 19:07




July 27, 2010 at 19:02










July 27, 2010 at 20:03







July 27, 2010 at 18:42




July 27, 2010 at 18:32




July 27, 2010 at 18:29







July 27, 2010 at 17:50







July 27, 2010 at 17:49







July 27, 2010 at 15:52







July 27, 2010 at 15:43










July 27, 2010 at 15:44







July 27, 2010 at 16:44







July 27, 2010 at 17:10




July 27, 2010 at 15:03










July 27, 2010 at 14:30







July 27, 2010 at 14:49










July 27, 2010 at 14:52




July 27, 2010 at 14:16







July 27, 2010 at 13:59




July 27, 2010 at 13:55







July 27, 2010 at 13:44










July 27, 2010 at 15:33




July 28, 2010 at 00:50




July 27, 2010 at 13:34




July 27, 2010 at 13:16