The world's biggest leak…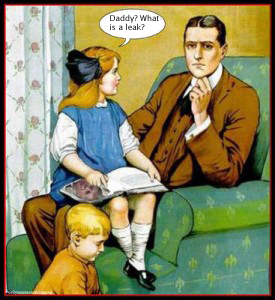 The 'Dog Days' of August are nearly upon us. Parliamentary gossip will dry up. Press releases from helpful celebrity PRs will be rarer than hen's teeth as they all take off for their holidays.
But what is this? Salvation is at hand!
Julian Assange has come to the rescue of the main stream press. Who he? Oh, you know the founder of Wikileaks, the idealistic and fearless organisation that fights against the suppression and censorship of information on the grounds of free speech and democracy and all that kind of thing.
It seems that young Julian has had up his sleeve for some time, some 90,000 documents that are part of the official American record of what the troops have been up to.
"Up his sleeve for some time, what, like sort of suppressing them?"
Nay lass, suppression is what governments do; Julian merely held them back until the commercial press had had time to trawl through them, and agree a joint commercially suitable publication time. That's good marketing.
"I thought you said he was idealistic?"
Well he is, but he was broke not so long ago, and so now he's an idealistic marketing genius.
"So he's published everything then?"
Well, nooooo, he's blacked out some of the names.
"Blacked out? What, like sort of censoring them?"
Nay lass, censorship is what governments do; Julian merely blacked them out for the safety of the individuals concerned. He's very responsible.
So holding documents back and taking out some of the information is a good thing then?
Well, it is if Julian does it, because he's a good guy and we can trust him, it's not if governments do it because we have the right to have all the information so that we can make our own minds up, not have the government tell us what to think.
"How do we know we can trust him?"
Well, because he's a Bloggerish sort of Anarchisitc sort of Guru who knows how to hack computers and things, and because he appointed himself to this role, and because he's one of Us, not one of Them, you know what I mean? I mean it's not like he's been put in that position through any sort of corrupt dirty democracy or anything like that.
"So what has he told us that is so important, I mean the Guardian, The New York Times, Der Spiegel are all slavering at the chops now?"
Well, he's told us that some soldiers were told to kill people without bothering with a trial; and he's told us that the Taliban have acquired some deadly weapons, and he's told us that the US are hunting down their enemies with unmanned drones to try to stop any more of their soldiers being killed, and he's told us that sometimes civilians get in the way and get killed too.
"But I already knew that"
Yes dear, but you didn't know it via a fearless ideological bloggerish anarchistic guru who can generate headlines like the "biggest leak in intelligence history" and give bloggers yards of material to pore over and prove that war is a dirty business did you?
I mean, if the Government had bothered to publish those reports, would anybody have bothered to buy a newspaper to read them?
Anybody fancy a punt on Gary McKinnon's chances now that young Julian has proved just how much damage can be wrought by military hackers?
h/t to Mick Turatian for translation errors!!!!