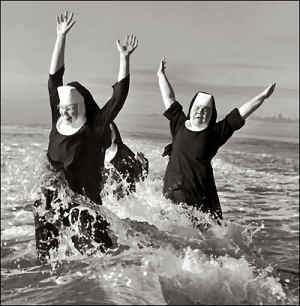 86 year old Sister Marie-Daniel and 82 year old Sister Saint-Denis have gone on the run from their convent in Roquebrune-Cap-Martin.
They had intended to be accompanied by 89-year old Sister Maurice-Marie, but she managed to break a leg and had to abandon her escape.
They went on the run after the 'council' of Saint Joseph's convent decided they should be put in an old people's home. One of the nuns is apparently heavily disabled.
"At that age, you don't move people about. It kills them," said the nephew of 89-year-old Sister Maurice-Marie.
The nuns seem to be moving about pretty efficiently without killing themselves – they took off from the convent at a steady clop 10 days ago, and the Mother Superior hasn't caught up with them yet.
When she does, she plans to discipline them in a religious court for disobeying her order to go and be disabled and elderly and sit quietly with the other old ladies.
The nuns are reputed to have hired ecclesiastical lawyers themselves; meanwhile, they keep on running.
The Tour de France ended yesterday, so we are occupying ourselves betting on which octogenarian Nun will get the yellow wimple today.
#SillyWeek