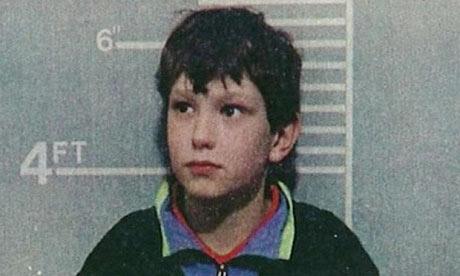 The media were quick to apply for reporting restrictions to be lifted when Jon Venables appeared in court. Their motive is clear. Publishing up to date information, photographs even, which are likely to identify Venables would be an extremely popular move with the readers of some of those newspapers.
Denise Bulger is trotted out again and again to give her opinion – as the one person who incontrovertibly has the right to express that opinion – that no sentence is sufficient to atone for Venables' crimes.
The murder of Jamie Bulger was horrific, nightmarish, and no amount of state sanction will ever bring him back.
There are many, and I sympathise with their views, although I don't support them, who would argue that Venables should be locked up for life, and 'life' should mean that he literally dies in prison.
There are just as many who would be happy to see Venables handed over to a lynch mob to be torn limb from limb, slowly, painfully, and left to die on a railway line somewhere.
However, there are also those who contend that Venables was 10 years old when he committed his crime, a child himself, and as such should have been given the chance to turn his life around and atone for his sins by living a useful life after serving a hefty prison sentence.
If we are arguing in favour of the first contention, that 'life' should mean 'until death', then we are also arguing that no child can ever learn, that beyond aged 10 there can be no progress in development. Is that really what we mean? That at 10 years old you have completed your development – if so we might as well lower the age of consent to 10 and be done with it. That is after all why we keep the age of consent at 16, the belief that until then you are not fully formed in your mental, physical or emotional ability. Or do we just mean that in Venables case, the crime was so horrific, that the armchair pundits have the right to demand that Venables right to another 6 years of development be suspended and he be sentenced as an adult. I will uphold that if every 10 year old is treated as an adult. No more 'but he's just a child' for anyone over the age of 10.
If we are arguing in favour of the second contention – that Venables should have been handed over to the lynch mob – I could be persuaded to support that contention too, providing it is universal. No more judge and jury, anyone over the age of 10 who is perceived to have committed a crime to be dealt with by a lynch mob. If your 11 year old son tears off my car aerial, I reserve the right to round up my neighbours and between us we shall tear off his ear. An ear for an aerial, a life for a life, So long as the justice is universal and applied equally to all, then I have no problem with it.
Which is why I supported the third contention, that Venables was just a child at the time, and should be given the chance to understand the errors of the values so far imbued in him by his parents.
The State took over control of him, and today the State stands accused of having failed to exercise that control over his mind.
They gave him a new identity, at great cost to the taxpayer. Had they not done so, they would have effectively handed him over to contention No. 2. The Lynch mob. The state has a duty to preserve life, and given the large number of people out there in the community who had already nailed their colours to the mast of 'tell us where he is and we will kill him', I do not see that they had any effective choice other than to make sure, by way of a new identity, that the lynch mob didn't find him.
In giving him a new identity, they posed a substantial problem to Venables. The law does not allow him to conduct a 'relationship' without disclosing his true identity. There is no substantive definition of a 'relationship'. At what point in whatever you term a relationship, do you feel secure enough to put your life in that person's hands? Is it the same point at which your probation officer feels you should disclose your true identity? The first time you sleep with her? When she takes you home to meet her Dad? Who knows.
We made that law to protect us, so that if we found ourselves in a 'relationship' with someone who had committed a heinous crime, we should be aware of it. At what point do you think you should be aware that you are about to bed a man who killed his last sexual partner? Personally I would advocate – before I even went home with him for the first time.
You can see the problem posed for Venables now; long before most of us would have considered we had a 'relationship', he must blow his carefully constructed new identity, and entrust that person – that he hasn't even gone home with yet, with the explosive knowledge that he is Jon Venables.
Little wonder that under the circumstances, he didn't form a relationship.
We now have a 27 year old young man, who is unable to form the sort of relationship which most young men form in order to assuage their sexual needs.
We are surprised that he turned to pornography and cocaine? Really? Both pornography and Cocaine are freely available because hundreds of thousands of other men and women purchase them in similar circumstances. They of course, didn't murder a child when they were 10.
We are told that Jon got into a drunken fight two years ago, and that the Home Secretary should have revoked his licence then. We are told that he was discovered with a small amount of Cocaine two years ago, and that the Home Secretary should have revoked his licence then. Mainly by those who support contention No1. that 'life' should mean 'until death'. Even for a child.
I think there would be an outcry if the Home Secretary took to revoking licences for everybody who got involved in a fight, or was found to be taking drugs. I cannot support the contention that Venables should have been treated any differently than any other lifer.
Finally Venables was discovered to be accessing and distributing child pornography from his computer. I cannot and will not defend him on this charge. That is not the purpose of this blog post. I will support the State however.
Short of sitting with him 24 hours a day, which is scarcely the point of having released him on licence, how one earth were they supposed to know that this is what he was doing? Sure, they could have monitored his computer – but the computers of all his friends as well? Are you supporting State monitoring of all our computers in case one of us is unwittingly a friend of Jon Venables?
The State has done all it can do rehabilitate Venables, and then to monitor him. Now they have recalled him, quite rightly. And the media, who would dearly love to pander to those readers who support option 2, the lynch mob, are in full bray, saying that 'justice has not been done'.
The sentencing remarks of Mr Justice Bean have just been released by the Judicial Communications Office, and they make for more sober reading than the main stream media.
"It would be wrong, in my view, for the sentence you receive today for child pornography offences to be increased by reason of the fact that you are one of the two people who, when much younger, carried out the horrific murder of two year old James Bulger. But there is a significant difference between your case and that of a typical offender. In an ordinary case, I would be telling the defendant that after serving half of the sentence of imprisonment which I imposed, he would be released on licence. That does not apply in your case."
You wouldn't have learnt that from the MSM – their angle is that 'Venables could be out in 12 months'.
The sentencing guidelines are laid down by the Sentencing Guidelines Council, not the judge. He has to follow them.
"The appropriate sentence after a trial would therefore have been 3 years, but you are entitled to credit of one third for the fact that you made immediate admissions when interviewed about the respective offences. "
Do we want to abandon the convention that by pleading guilty you are entitled to a reduction of one third of your sentence? I will only accept that if it applies to everyone. This will mean that there is no advantage to say a rapist in pleading guilty and saving his victim from going over the gruesome details in court again……
So that left Venables with two years. Not two years and entitled to count the time spent on remand, as anybody else would be, but two years starting from yesterday.
"They run from today since you are not entitled to credit for the time spent in prison since your recall."
Venables, you see, was not on 'remand', he was on 'recall'.
In addition, Venables was placed on a Sexual Prevention Order which prohibits him – assuming he is ever released – from either owning or using, i.e., anybody else's, computer which does not have software installed which prevents access to child abuse images. Or using any peer-to-peer file sharing software for whatever purpose, including downloading music or legitimate films, or using any social networking sites or chat facility.
These restrictions will apply whenever, if ever, he is able to persuade the parole board to release him on licence again. If he does apply to the parole board, Denise Bulger will be entitled to make her opinion known and it must be taken into account. He does not have a 'right' to parole; it is a privilege that he must justify.
If he is considered for parole, he will have to explain to the parole board how he is going to make a useful life without jeopardising his life by commencing a relationship, without chatting on line, without downloading music or videos, and naturally with an assurance that he won't use drugs or get involved in fights. Short of agreeing to sign up to a monastery, it is difficult to know how he might do that.
So what else could the state have done to avoid the 'justice has not been done' headlines.
I suppose they could have followed the 'justice must be seen to be done' and allowed pictures of him in court to be published, so that he could be beaten to death in jail somewhere.
Would that really be justice, or just a sop to those who would like to be able to take the law into their own hands?
Does the state not have a duty to preserve our life from those who violently disagree with us? That is probably the only function of the State that I really support. There are people that I violently disagree with. Am I to be given the freedom to beat them to death? Is it OK for a fundamentalist Islamist to blow you up because he violently disagrees with the things you believe in?
Be careful what you wish for when entering the Venables debate.
July 31, 2010 at 19:49







July 25, 2010 at 15:26










July 24, 2010 at 23:13







July 24, 2010 at 19:16







July 24, 2010 at 19:12




July 24, 2010 at 17:32







July 24, 2010 at 16:17




July 24, 2010 at 16:15







July 24, 2010 at 15:47










July 24, 2010 at 15:36




July 24, 2010 at 15:20







July 25, 2010 at 10:29




July 24, 2010 at 15:08




July 24, 2010 at 14:36







July 24, 2010 at 13:38










July 24, 2010 at 13:17




July 24, 2010 at 13:14




July 24, 2010 at 12:12