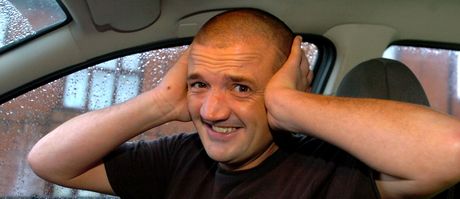 A DRIVER was left baffled after receiving a £30 fine for playing music too loudly on his car radio.
Christopher Cureton, of Seacombe, was listening to the rock band The Killers' hit, Human, as he drove along Brighton Street, Wallasey, at around 10pm after an eight hour shift on a Friday night.
But before the 41-year-old mechanic made it home to meet his wife Kristen for a few drinks, he was pulled over by police and given a fixed penalty notice.
He said: "I'm not some boy racer with a big sound system fitted in my boot.
"I'm a dad who was driving home from work in a Vauxhall Astra, listening to some music, at what I thought was an acceptable level on my standard factory fitted car radio.
"I didn't even know you could get a ticket for playing your radio too loud."
Christopher's ticket said he was producing "excessive noise" in a manner which "could have been avoided by the exercise of reasonable care".
He appealed the fine and has been asked to attend Birkenhead Magistrates' Court on February 5, next year.
The dad-of-one added: "It seems like such a silly thing but I've appealed the ticket on principle. If there is a legal level of noise that I exceeded I will willingly pay my fine, however when the only evidence is the opinion of a police officer, I feel by paying it I could be setting a precedent for laws to be made up as and when the police suit. I'm still totally baffled and feel like this whole situation is unfair and unjust."
A Merseyside police spokesman said: "We can confirm that on Friday, August 7, an officer issued a Fixed Penalty Notice to a motorist for an incident involving anti-social behaviour in connection with use of a vehicle.
"Specifically this offence was 'using a motor vehicle in a manner to cause excessive noise' in the residential area of Brighton Street, Wallasey."
July 27, 2010 at 12:36

July 28, 2010 at 08:53

July 26, 2010 at 11:17

July 26, 2010 at 10:21

July 26, 2010 at 05:48

July 26, 2010 at 00:15

July 25, 2010 at 22:51

July 25, 2010 at 22:10

July 25, 2010 at 21:47

July 25, 2010 at 21:17

July 25, 2010 at 18:27

July 25, 2010 at 19:06

July 25, 2010 at 17:59

July 25, 2010 at 17:13

July 25, 2010 at 17:05

July 25, 2010 at 16:55