Licensed to Intimidate Courtesy of the Office Of Fair Trading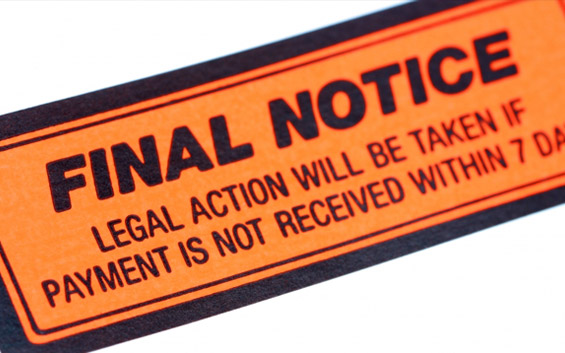 Occasionally I get asked to look over some paperwork that some of my son's more inexperienced friends receive threatening dire retribution and death at the hands of some pretty unsavoury debt collectors and their associated lawyers.
I have dealt with a number of these sharks who think that it is smart to telephone people upwards of fourteen times a day making threats. Usually a swift letter to the company concerned citing the following does the trick.
a) The Prevention of Harassment Act 1997 sec 2
or
b) Tell them you are recording the conversation for the purposes of training
or
c) If they are telephoning from India, tell them that what they are doing is illegal, you want their name and department and that you will be contacting the Police when you have finished the call.
The Banking crisis has meant that a lot of the major credit card companies, Barclaycard, MBNA, Goldfish (remember them Billy Connolly ?) have bundled up their non recoverable bad debt and sold it for about 10p in the pound to some of these telephone hoodlums who then try to get the full amount out of you, by intimidation and threats of bankruptcy, loss of home, besmirching your all essential Experian, Equifax et al record whose state sanctioned records are 'supervised' by the Information Commissioners Office.
Experian and Equifax run a system that effectively has by passed the Court system. The Debtor company decides you are guilty on the say so of one of their 'members' and that is you screwed for the next six years until the default notice drops off your record.
It is not a case of you are innocent until proved guilty, you are guilty until you can prove that you do not owe these characters any money. If tackled by one of these 'debt recovery companies' do not get into any telephone discussion with them. Keep everything in writing. Ask for a copy of the Credit Agreement you have allegedly signed with them, or if they say they have bought the debt ask for a copy of the assignment document. Invariably they will not be able to produce such a document, because they rely on intimidation tactics to divert attention away from the due process of Law which they are trying to circumvent.
Let me get one thing straight, if you take credit you should think very carefully about it and whether you can really afford it, and all debts incurred should be properly paid back, or if your circumstances change you should be able to rely on the Law to protect you from the worst of these chancers seeking to make a swift buck out of people's misery and miscalculation.
There are a few market leaders out there that take the biscuit, remember the 'Party of The People' were proposing to give 'bailiff' companies the right to break into your home? A far cry from the 1920's when political activists in the Communist and Labour Parties banded together to prevent evictions.
I was passed some correspondence on Friday last about a company called HFO Services Limited in Surrey and their associates Turnbull Rutherford Solicitors.
HFO have a number of aliases and addresses-
Also Known As: HFO Services Ltd Debt Collectors, HFO Services Ltd Ltd, HFO Services West Byfleet, HFO Services India, HFO Debt Collectors West Byfleet Surrey, etc., etc., etc.
Address: PO Box 342, Lavender Park Rd, West Byfleet, Surrey KT14 6YX and also 6B Building No. 6, DLF Cyber City, DLF Phase-3, Gurgaon-122002, India.
Before contacting them I did a bit of online digging around on what sort of company they are. Toxic, I think would be a fair description. They have also drawn the attention of the local trading standards office who allegedly have two members of staff dedicated to HFO, however, Merton Trading Standards are unable to make any comment regarding HFO – because of the Data Protection Act – which does a jolly good job of protecting enterprises from unwanted comment on their procedures, in contrast to the Trading Standards, who seem toothless to protect customers.
They certainly are a colourful collection of players.
Of the multitude of complaints about this company this story broken by Tony Hetherington of the Mail is the most bizarre – a member of HFO staff allegedly started harassing a neighbour of a 'creditor' in breach of the Data Protection Act, then advocated that they tie HFO's telephone number to a brick and hurl it through the 'creditors' window !!!
The BBC's You and Yours programme have also taken an interest. A quick Google on 'Complaints about HFO' will show you that they are still in action this one is dated a few days ago – which proves that that the Office of Fair Trading is still being pretty toothless in dealing with this company.
HFO Services Limited is a subsidiary of a Cayman Islands Company HFO Capital Ltd, HFO Capital which maintains it has been assigned the rights to these debts, as a Cayman Islands Company cannot issue proceedings in English or Scottish Courts. It then maintains a legal fiction that it has assigned these debts to HFO Services Limited.
The first that many people know about this company is when a Northampton Bulk Centre CCJ claim form lands on their mat; there are a number of pre Court protocols that should be followed before Court Action is undertaken, otherwise it is an abuse of process. I come from Northampton. The Bulk Centre is not a 'Court' it is an anonymous town centre building that just processes and spews out claim forms; again i f the State was not assisting companies like HFO, and each case had to be referred to your local Court these companies could not succeed.
On the 22nd April 2009, Hansard gave HFO a starring appearance in the catalogue of case work complaints received by Constituency MP's.
Mr Gareth Thomas, the then Minister of Consumer Affairs concluded-
This sector and industry are under the spotlight. Ministers, the OFT, Members of this House, the media and our constituents are all watching closely the activity of businesses in the sector. Considerable work has already been done to challenge poor standards and there has been progress, but I recognise that there is more work to do.
It appears that not much has happened to restrain either HFO and its counterparts, and that the HMCS Northampton Bulk Centre is still a willing accomplice to the abuse of thousands of our fellow citizens, because of the fees generated.
So if a 'bearded, wind swept, and interesting person' tries to sell you a credit card, go tell him to go fcuk himself, he hinted. Otherwise you will find yourself at the end of metaphorical 'brick through the window' from these characters.
The Law is not designed to be a tool of the rich and powerful, though that is how it was corrupted under Blair, Brown and Mandelson. It is there to protect the weak against the powerful. So use it.
Without due process we are back to the days of the Robber Barons.
Andrew. P. Withers