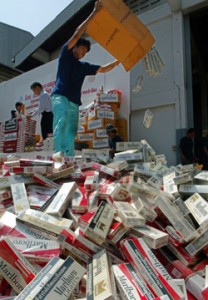 The Government must be feeling the pinch with all these righteous folks giving up smoking. Revenues from tobacco are dropping.
Justine Greening, Economic Secretary to the Treasury, has hit on a cunning plan.
He has signed an agreement with British American Tobacco which requires them to make substantial annual payments to the British Government and the EU if their product is smuggled.
So, if they can't get the excise revenue legitimately from the retailers, they will strong arm it from the manufacturers.
Justine Greening said:
"These agreements are an important step forward in the fight against tobacco smuggling. Signing them sends a clear and consistent signal that we are working in step with the EU, other Member States and tobacco manufacturers to tackle the illicit trade in tobacco products."
No it doesn't Justin! It sends a clear and consistent signal that you are losing the battle to stop tobacco smuggling so have hit on a new route to get the revenue you are so fond of.
Drop the tax rate and you will cure the smuggling problem.
July 15, 2010 at 21:40




July 15, 2010 at 20:56







July 15, 2010 at 18:38







July 15, 2010 at 20:34







July 17, 2010 at 06:09







July 15, 2010 at 18:01




July 15, 2010 at 17:40




July 15, 2010 at 17:40




July 15, 2010 at 17:38







July 15, 2010 at 17:12